Table of Contents
Variety is important in sex, and some find pleasure in foot fetish toys or other uniquely designed artificial pussies. Others use the feet of their female sexual partners for arousal and get themselves hard or for orgasm and ejaculation. Generally, people with foot fetish wrap their manhood around a pair of feet until it grips them, then they jerk themselves off to orgasm.
But with the new design of foot sex toys, you can now stroke your shaft inside artificial pussies connected to a pair of erotic feet. With this design, you could stroke your manhood inside while caressing or massaging erotic and realistic feet. The sensation will drive you crazy, and you could massage or rub the feet while your shaft is inside the artificial pussies for further stimulation!
Experience a New Sexual Experience with Foot Fetish Toys
With feet sex toys, you have two options: massage your shaft in between a pair of feet with smooth, silky skin. Simply squeeze the feet together, let the pair grip your shaft, and then thrust in and out until you reach orgasm. You could also stroke it inside artificial pussies like a typical onahole or pocket pussy.
Masturbating with feet sex toys is not exclusive to those who have a foot fetish only. You can try these toys if you are looking for new ways to stimulate your shaft. While it might not be the most arousing idea to wrap your manhood around a pair of feet, it could be an addicting experience once you get the hang of it!
These foot fetish toys will surely grab your interest!
Nowadays, different options are available online for foot sex toys, and it could be confusing to browse through other websites. But here are some interesting products that will surely cause you to wonder what it would feel like to stroke your shaft with these toys.
1. Beautiful Legs Nakadashi Life
Starting in our list is the Beautiful Legs Nakadashi Life designed by Seiraku for people who love girls with tall legs. This toy highlights the curves of a female's lower body, from a slim waist down to the calves and ankles. With this toy, you also get a soft and curvy butt from behind, which you can squeeze while stroking your shaft with this toy's pair of feet.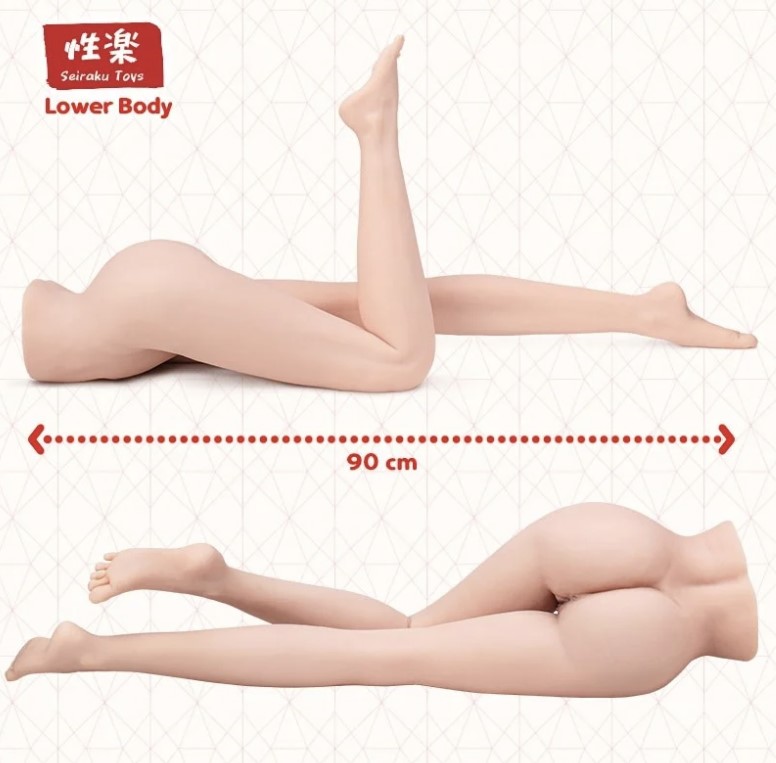 Rather than simply designing a pair of mannequin legs that are similar to fleshy tubes, Seiraku manufactured a sex toy that has multiple layers. The outermost layer is the soft skin you immediately feel as you caress and run your fingers through. Inside, it has an exoskeleton and joints that allow you to move the legs in different positions.
Unlike other toys, the Beautiful Legs Nakadashi by Seirak has two pleasure holes: a vaginal and an anal hole for your shaft. Each hole has a different tunnel structure that can handle the intensity of your thrusts. Once you are near the point of ejaculation, you can use the silky feet to reach orgasm and blow your load on this toy's pair of feet.
2. SEDOLL Foot Fetish Realistic Pussy with Sexy Red Nail Toy
If you want a more innovative toy that suits your foot fetish, then the SEDOLL foot sex toy might be what you are looking for. The SEDOLL features a pair of feet complete with toes and red-colored nails with a concealed vagina at the soles. However, this toy does not feature a pair of long legs attached to a slender waist.
Despite being only a pair of feet, the vaginal holes on each sole are more than enough to satisfy you or anyone with a foot fetish. These holes have a pink entrance on the outside, and once you are inside, there is a series of tight massaging ridges ready to welcome you. The feet are also full of TPE skin, so it does not emit a bad odor even if you use it for long masturbation sessions or if you spill too much lubricant.
Thanks to SEDOLL foot sex toy's high-quality materials, you can easily clean off this toy. You do not have to buy expensive cleaning kits because you can use almost any household cleaning material on this toy. But, do not apply body or hand washing soap directly on this toy's skin or vaginal tunnels as it might damage the toy's elasticity and general make-up.
3. NZ Realistic Foot Fetish Silicone Sex Toy
Coming third in our list is the NZ silicone foot sex toy that features a pair of feet with ankles for a durable grip. Underneath the toy's sole, there are vaginal holes ready to massage your shaft to orgasm and ejaculation. Additionally, you could grip this toy easily because it weighs only about 2 lb and has a handy size of 11x 5.9x 3.1 inches that would easily fit your hands.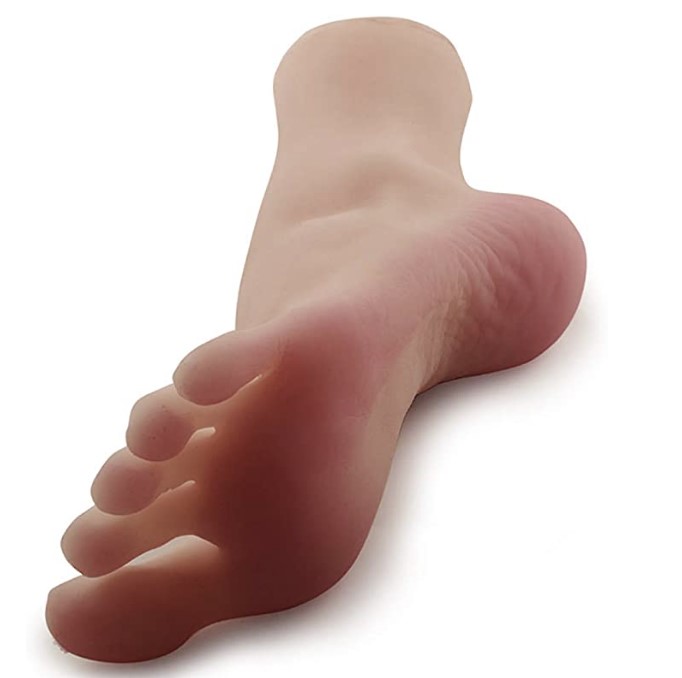 Made with 3D technology, the NZ foot sex toy has realistic make-up and texture on its toes, ankles, soles, and feet. You could even see some veins in the skin, which makes it natural when you touch it. While it may feel soft outside, inside, you get a tunnel structure that offers progressive friction for your manhood.
With a few drops of lubricant, this toy could fulfill your foot fetish sexual fantasies because it has full TPE compatibility, unlike other silicone sex toys. TPE does not emit a bad odor when exposed to lubricants or other bodily fluids for a long time. Aside from these, TPE allows the toy to have good elasticity without sacrificing the firm structure of the feet and the vaginal tunnels.
4. Sexbaby Realistic Foot Fetish with Ankles and Vaginal Holes
Another toy with ankles attached to it is the Sexbaby realistic foot sex toy with vaginal holes connected to it underneath the sole. Unlike the NZ foot sex toy above, the Sexbaby toy has an air vacuum ready for your shaft while you are stroking inside the vaginal holes in the soles. Also, the vaginal tunnel has massage beads instead of ridges and a fleshy wall that will further stimulate your shaft.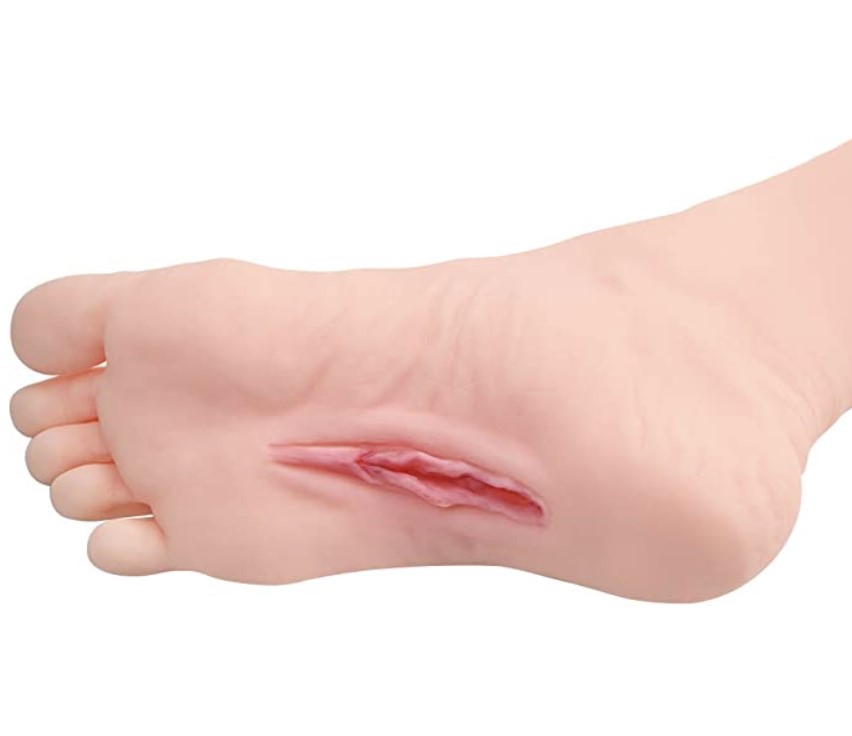 With ankles connected to the feet, you could balance this toy on top of your manhood or any flat surface. You could also attach these ankles between a gap in your couch, bed, or tables so you could thrust inside without using your hand. Additionally, the ankles have a flat top so you can attach grip tapes to it, letting you mount the toy on a wall or in your shower.
The life-like material covering the skin is absorbent and lets you choose different scents you could apply to the toy. Whether you like to add lady's perfume or different perspirant scents, this toy can handle it. Whatever your preference is, the Sexbaby toy will bring you the best simulation of feet sex.
5. Vieruodis
Last on our list is the Vieruodis, a foot sex toy with flexible ankles that lets you move it in a clockwise motion. This toy also has vaginal holes underneath the soles, which could fit different sizes of junk and stretch as far as you want it to be without breaking the skin of the soles. With over 2 pounds, you would feel the pressure from each stroke on this toy.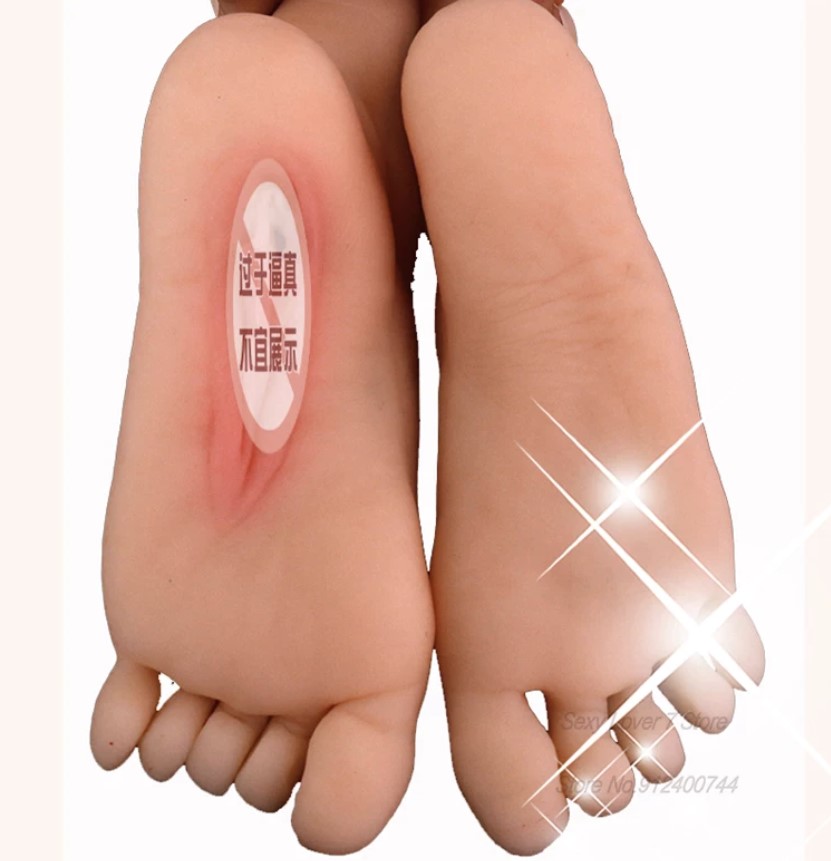 Although this material is silicone, it offers excellent elasticity and sensation for your shaft once you are stroking inside the toy. Silicone is generally firmer than other materials, making it compatible with vaginal tunnels. However, you could not use different kinds of lubricant inside this toy's silicone pussy hole because it might destroy the general make-up.
So if you want a firmer feet sex toy that offers a tight vaginal tunnel and rougher skin texture, the Vieruodis might be the toy for you! This toy has a dimension of 10x6x4 inches, giving you plenty of room to caress the feet, grip your manhood, or stroke your shaft to orgasm.
From toes to ankles, foot fetish toys can satisfy your urges!
It might sound weird to you because of hygienic reasons, but people find feet erotic. In reality, some models make insane amounts of money by selling various pictures of their feet, which goes to show how much people are attracted to feet. While it may be weird, once you experience the sexual stimulation that feet can provide, you might develop this fetish too!
So if you are urging for something new, start with these toys until you eventually decide whether feet are for you. Also, by using these toys, you protect yourself against bacteria that might be present in real human feet. These toys could be your gateway to something more interesting than vaginal or anal penetration.