Table of Contents
Did you know that having sex with a Japanese Pornstar is one of the biggest fantasies of a male? If you also have this fantasy, you will be glad to know that there are sex toys modeled after them! Indeed, the manufacturers ensured that these Japanese pornstar sex toys have a similar appearance and texture to the models.
Why is a Japanese Pornstar different?
Despite the heavy censorship of Japanese porn, many people regularly search for and watch it online. The reason behind this is the charisma and body that a Japanese Pornstar possesses. Unlike western pornstars who go crazy for plastic surgery, breast enlargements, and facelifts, Japanese actresses take pride in being all-natural.
Some elements set Japanese idols apart from the typical Western pornstars from the biggest porn studios.
Slim and curvy
Many Japanese pornstars have slim body frames but have curves to die for, thanks to the food culture and rituals in the country. Experts say that Japanese cuisine does not give much importance to taste but more to the health benefits. Also, the Japanese consider walking more of a ritual than merely an activity in a routine.
Green tea, noodles, and seafood are big things in Japan, and scientists have linked these foods to lower the risk of obesity, cholesterol levels, and inflammatory diseases. These foods are also high in fiber, making Japanese women, in general, slimmer than Western women who have a calorie-heavy diet.
Innocent and young-looking face
Thanks to their culture, Japanese women have looked younger than their actual age and have seemingly spotless faces. There are pornstars in the industry that are past their 20s but still look and perform like they are barely legal teenagers!
Also, Japanese people love the "kawaii" look or women's innocent, cute, and childish faces. The Japanese people love pretty things thanks to a trend started by teenage girls that soon made its way to magazines, comics, dolls, and anime. Eventually, almost every Pornstar in Japan wants to look and dress like the kawaii anime characters.
Big breasts and long hairs
Lastly, a typical Japanese pornstar has what others have been spending insane amounts of money on: a pair of big natural breasts and long silky hair. Breast size and hair quality are affected mostly by genetics and heredity, but nutrition also has an effect. Thanks to the well-preserved culture and dietary traditions of Japanese women, their breast sizes and hair quality are among the top worldwide.
Try these Japanese pornstar sex toys
We compiled a list of sex toys modeled after the pussies of top pornstars, so you will not have to! So browse through these fan favorites and take your pick.
1. Julia+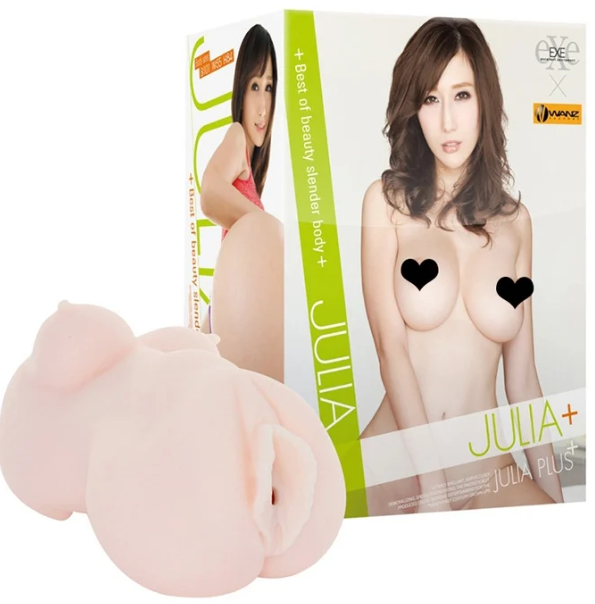 The Julia Plus is one of the top-grossing sex toys modeled after the pussies of Japanese pornstars with a global fanbase. This toy is from EXE and mimics the body frame and the pussy of Julia Kyoka or Julia "Boin." In Japanese, Boin means big breasts; Julia has those because she has H-cup breasts!
You would not believe that this Japanese Pornstar is already 35 years old because her slim body and young face show otherwise. She also has superb acting skills, great flexibility, and irresistible charisma, which helped her reach global stardom. You would see a miniature representation of Julia's collarbones and highly-acclaimed breasts on the toy.
As you push deep into her hole, you will feel a rolling curve that pushes your manhood further inside. You could also twist and turn the Julia+ as you stroke in and out so you could find the perfect position. A fun way you can use this pornstar sex doll is to grip her waist with one hand and fiddle your thumb under her breasts so that it bounces as you go in and out of her.
2. Utensil Race Aika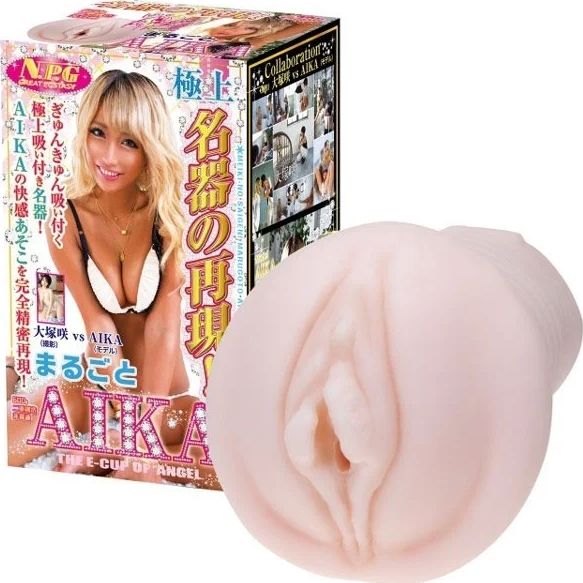 Aika is a blonde Japanese pornstar with a slim tan body and long blonde hair. Of course, the ample breasts and innocent face come with it, but what makes her special is her freaky attitude in her videos. Unlike other actresses, she is not shy to show how big of a slut she is, and with this high-quality onahole, you get to explore inside her.
The Utensil Race Aika has a tighter tunnel and thicker walls than other onaholes, which lets your shaft feel a deep tissue massage every time you go inside. If you are 4 cm deep into this toy, there is an area full of membranes and massage nubs that will massage the underside of your manhood. On the upper side, broad ridges push your shaft deep into the tunnel, making a good combination as you stroke in and out.
If you manage to last long enough to go to the end of the tunnel, there is a thick wall that provides a good vacuum sensation. You can strengthen this vacuum by squeezing out the toy before entering. The Utensil Race Aika Japanese pornstar sex toy also comes with an 80 ml bottle of lubricant, so you can use it immediately after unboxing it!
3. Meiki no Shoumei No. 12 – Eimi Fukada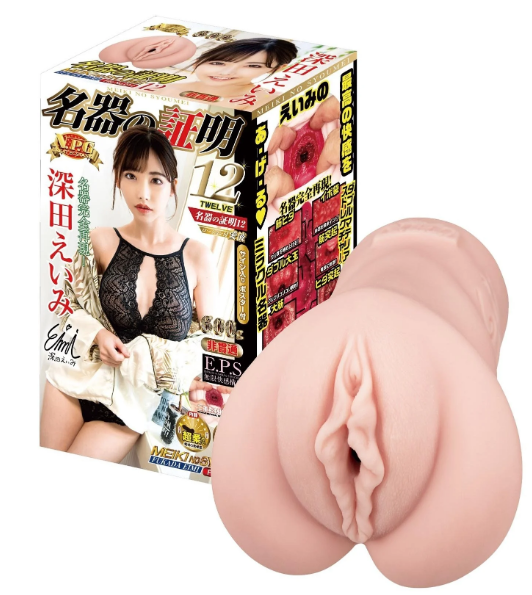 Everyone knows how cute, seductive, and flexible Eimi Fukada is, so we have to include toys modeled after her on this list. This rising star is only 24 years old but has already made over 200 videos with almost a thousand-hour footage of the steamy sex in different positions that you could think of! That is why it is no surprise this toy has been among the top in the market because many fans want to see and feel Eimi's pussy without censorship.
If you buy this toy, you are in for a treat because Eimi posed for a plaster cast and her pussy's mold turned into a toy. This toy features puffy labia and pink pussy lips unseen in Eimi's videos due to censorship. It also has a thick exterior, making it easy for you to grip and twist while your shaft is inside.
While the entrance of Eimi's pussy has a pale color, you could spread the labia to see the pinkish walls ready for your shaft. Since this toy mimics Eimi's pussy, the internal structure has ridges similar to the flesh texture. Each stroke inside feels natural, and you will feel different ridges and bumps that massage your manhood.
4. Entirely Super Soft Pussy – Kimijima Mio Meiki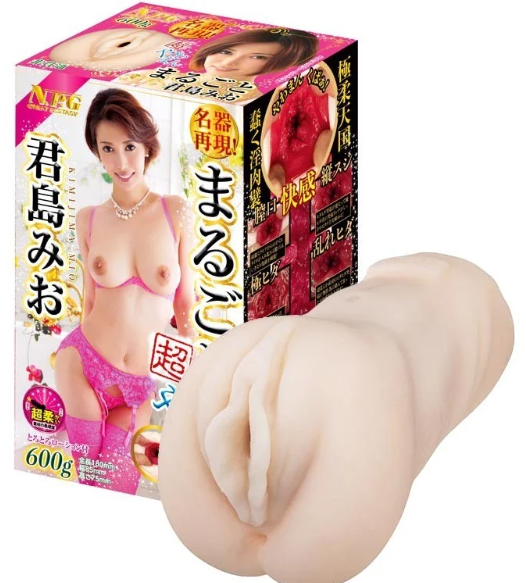 Another staple in the list of top JAVs, Mio Kimijima or Mio Kimishima, has an angelic face and body that starred in almost 300 movies and has endorsements with about ten porn studios. With this onahole, you could see her pussy up close and experience what it is like to stroke your shaft inside her award-winning pussy. You can use this onahole to masturbate while doing a marathon of her hardcore porn videos!
Its packaging features Mio showing off her body in different poses wearing lingerie sets guaranteed to get you hard the longer you stare at it. After unboxing it, you would feel the Meiki onahole's soft skin with a texture similar to a pillow. The material in the entrance of the onahole is elastic, and if you dig deep inside, you will feel tight walls that offer a snug fit on your manhood.
With a 600-gram weight Japanese pornstar sex toy, you would feel fleshy ridges around your shaft, and with a few drops of lubricant, it feels like a real pussy. Like Mio's pussy, the tunnel is tight and full of massage beads stimulating your glans as you reach orgasm. Unlike other onaholes with too much elasticity, this toy molded from Mio's pussy pulls back on your shaft as you go in and out so you can feel every stroke.
5. Japanese Real Hole Indecent Rara Anzai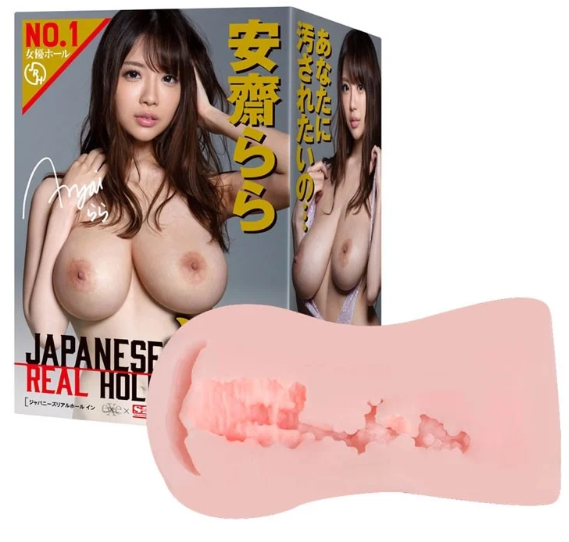 Known for passionate sex and insanely large natural perky breasts, Rara Anzai, has a sex toy after her created by EXE. She collaborated with the manufacturer to have her pussy plastered and probed to create this realistic onahole. If you are among her fans, this toy is a must-have for you, and you can see and experience Rara's uncensored pussy.
The toy has a body like the typical onahole with a cylindrical shape in the middle so you can grip it firmly while stroking. At the entrance, you could see Rara's puffy labia slightly apart, revealing a tight hole waiting for your shaft. Simply by looking at the puffy labia with lips leading inwards, your manhood will go through one of the tightest yet most pleasurable holes.
Inside, you would immediately feel meaty walls that pull your member inwards with every thrust you make. The upper part of the onahole is pretty thick too, and could handle whatever intense pounding you are planning to give to Rara Anzai.
Jerk off to your favorite Japanese Pornstar now!
While these toys may cost more than your average fleshlight or pocket pussy, you can be confident that they are worth your money because of the quality they possess. Additionally, there are tons of freebies, such as pornstar wallpapers, autographs, and lubricant bottles, after you purchase these toys.
So you can choose one or collect all these toys, if you have the money, to have a rotation of Japanese pornstar sex toy ready to service and stroke your manhood.