Table of Contents
You may be having a hard time choosing between TPE tit sex toys and silicone tit sex toys. 
In order to create the most realistic sex dolls, makers have always experimented with different materials.
While silicone used to be the most popular material, it wasn't the cheapest. Therefore, manufacturers began experimenting with different materials to make high-quality tit sex toys more affordable. Consequently, TPE became widely used throughout the world in the sex doll industry.
Today's market offers a wide selection of both silicone and TPE tit sex toys to satisfy every customer's needs. However, how can you tell which one is the best for you?
TPE vs Silicone
The term TPE refers to elastomer thermoplastic, also known as rubber thermoplastic. Polymers such as plastics and rubber are incorporated into it, giving it properties of both thermoplastics (plastics) and elastomers (rubber).
That said, we can conclude that TPE tit sex toys are a mixture of soft plastics. These toys are eco-friendly, hydrothermal, heat-retardant, extendable, patchable, and washable very quickly, ensuring their longevity. It is no secret that TPE resin is used for a wide range of applications across a wide range of industries.
Silicone, on the contrary, is plastic. Due to its heat and rubber resistance, you can use it in a wide variety of applications, such as lubricants, medications, glues, and cooking utensils. It can also be made of other materials, but silicone rubber is the one we commonly see in silicone tit sex toys.
Depending on how silicone rubber is prepared, it can be soft and stable or very strong. It can even retain its original shape even under extreme pressure. Moreover, due to its non-reaction with most contaminants, it is also warm and clean. Medical implants made of this material are very common since the material is very heat-resistant.
Over the past few years, silicon and TPE sex toy production technology has changed significantly (similar to realistic metal skeletons for sex dolls), and methods have improved greatly. Silicone is a rubber-based material that gets mixed with carbon, hydrogen, and oxygen. Meanwhile, TPE is a thermoplastic elastomer, which is a mix of rubber and plastic.
Taking a different approach to both materials, let's examine them separately.
TPE and Silicone sex toys difference
Cost
In recent years, TPE tit sex toys have become increasingly popular due to their low cost. It is very cheap to manufacture thermoplastic elastomers, resulting in affordable sex dolls. Also, this low cost does not equate to poor quality, so it is an added benefit.
Compared to their plastic counterparts, TPE sex dolls are cheaper. As a result, they tend to sell out faster than any other kind of sex toy since they are more accessible to customers.
Compared to TPE sex dolls, silicone tit sex toys are more expensive, which means that only those who can afford extra money can afford them. In some cases, silicone boobs are much more expensive than TPE – this would be a major disadvantage.
Realistic
Since TPE and silicone are soft materials, their degrees of realism are almost identical, with only minor differences. However, when it comes to realism and lifelike features, silicone tit sex toys are in the lead. That is because the silicon industry has grown and refined because of new technologies.
In terms of pocket pussy and other body parts, silicone sex dolls are also the most refined. Since the TPE industry is in its infancy, its tit sex toys may not be as well-defined as silicone ones, but they still have a realistic appearance.
In comparison to silicone dolls, TPE boobs are smoother and better to touch, which is why they are preferred. This means that they have a natural appearance and feel. Besides being soft, TPE boob toys are also flexible. They wobble back and forth during sex, giving you a more realistic experience.
TPE tit sex toys are also made of hypoallergenic materials, which is another advantage. In essence, it means you won't be able to develop an allergy to it even if you use it without protection. In order to ensure the safety of these sex toys, the manufacturers have only used non-toxic materials.
Porosity
The silicone tit sex toys are non-porous and realistic. The easy sterilization ensures that they are highly hygienic. They do not have pores where water or moisture can get trapped.
On the other hand, TPE tit sex toys contain pores. Thus sterilizing them is a bit of a challenge. As a result, it can be difficult to clean them, and moisture may stay inside the vaginal and anal cavities, causing infections and unhygienic conditions.
Both materials, however, are hypoallergenic.
Life-Like Sensations
It is desirable to have real-life sensations when having sex with tit toys. There are different benefits associated with silicone and TPE regarding these sensations.
Even though TPE and silicone both retain warmth, silicone is less sensitive to heat than TPE. In other words, you can take a hot shower with a silicone boob but not with a TPE doll. Also, touching a silicone tit sex toy feels substantial, much harder than touching TPE.
Silicone and TPE both have soft properties, but silicone is dense and can sometimes be sticky to the touch. TPE has more elastic properties, making the material smoother, but silicone feels dense to the touch. As a result of this elasticity, TPE breasts, butts, and thighs will wiggle while you're having sex, making it a much more sensual experience. Also, TPE is more flexible due to its elastic nature, so you can make different positions with it.
Care and Maintenance
Due to the ease of cleaning and sterilization of silicone dolls, they require very little maintenance. Furthermore, silicone does not stain easily.
The TPE is not as resistant to water, heat, and stains as silicone, so maintenance is required on a regular basis. It's not easy to clean a stain from your boob toy.
Further, since TPE tit sex toys are highly porous, you should wash them regularly. Mold can appear if you don't clean them well – so watch out!
Longevity
Since TPE is said to be less durable than silicone, silicone has an advantage when it comes to longevity. You may be able to use TPE dolls for years to come. Early realistic doll owners typically kept their dolls for six to seven years. To some extent, however, longevity really depends on the quality of the material used.
Our Best Silicone and TPE Boob Toys
Pururun Blue Vein Oppai 2200
This Pururun Blue Vein Oppai 2200 is a perfect choice if you're tired of fake TPE tit sex toys! The breasts feel super realistic to your hands and members since they are made of high-quality silicone and Seiraku DX Gel. Hand-painted blue veins cover the soft skin texture for premium satisfaction.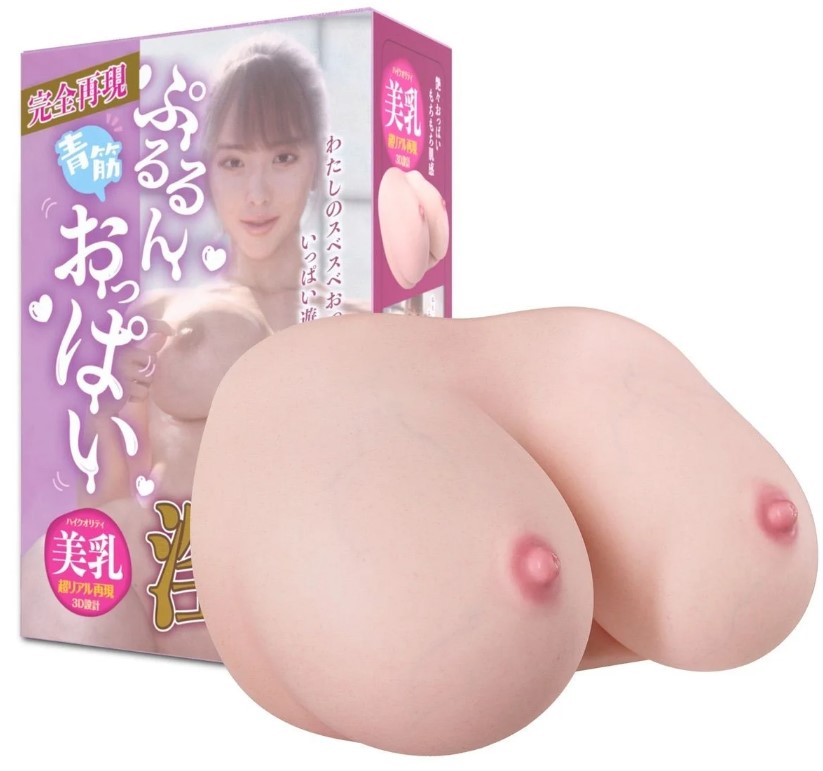 Any male toy collection would benefit from the design of Pururun Blue Vein Oppai 2200. It's very durable because of its high-quality materials. Under the silicone outer layer is a special gel that creates two breasts that are in great shape. Feel free to squeeze, hold, pinch, press, or slide between the realistic skin material to fully enjoy them. Be sure to apply some lube and make the most of those two sexy and round bits.
As soon as you open the packaging with a young and beautiful girl in the illustration, your pleasure will begin. She invites you to join her by lightly touching her breasts. So open the box and enjoy this silicone boob toy to the fullest!
Holy Sister Oppai
In Japanese, Oppai means huge round breasts. There are three layers to Holy Sister Oppai, making this sex toy one of a kind. She has two big soft, jiggly, and bouncy boobs that you will love to hold in your hands or wrap around your member. Your wildest fantasies can come true with this naughty nun, who will either forgive the sins you have committed or make you commit more.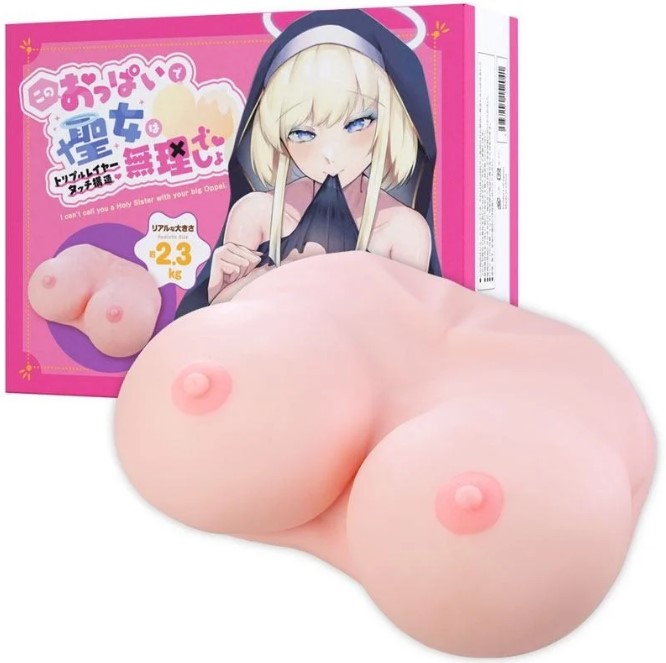 When you hold, squeeze, or play with Holy Sister Oppai, it feels very real. The toy is made with a triple-layer construction that makes it almost impossible to tell it apart from the real thing.
Squeezing them is a pleasure due to the soft inner material. An outer layer of skin-like material is also soft but stable. Last but not least, the nipples are made from harder material that makes them more erect.
Get Your Silicone or TPE Tits Now!
When purchasing a tit sex toy, it can be challenging to choose between silicone and TPE because each has its own pros and cons. Nevertheless, silicone and TPE sex boobs are similar in many ways and come in good quality. However, preferences vary from person to person. Determine which tot sex toys are best for you after you have carefully considered your needs.