Sometimes, fiction is better, which is why most otakus prefer an anime pocket pussy over finding a real sexual partner. Nowadays, some men find it too much of a hassle to have a date with people for hook-up purposes. Not only is there a risk of STDs, but there is also a high chance of rejection.
So what better way to satisfy your sexual urges than with a pocket pussy? If you are an otaku, having a pocket pussy will give you the sexual pleasure you are looking for, hassle-free!
In case you are wondering, an otaku is someone who is an anime enthusiast. With the rise of the internet, there was also a rise in media content consumed. Anime is among the popular emerging media content. Originally from Japan, anime features animated graphics and storylines filled with young heroes, groups of friends, and romantic dramas.
Is it safe to use an anime pocket pussy?
Using an anime pocket pussy or an onahole is a safer alternative to hooking up with random people. An onahole will not give you STD, although some people may view it as a crazy sex toy. It will satisfy your sexual urges whenever and wherever you are free to do so!
There is a growing trend that otakus are also virgins, someone who has not yet had their first sexual experience. Most otakus spend their days locked in a room while watching anime.
Otakus rarely have the time, energy, or charisma to find a sexual partner. If you are among these people, then a pocket pussy is a must-have! Using this while watching anime is one of the best ways to relax and release your sexual desires.
Check out this list of anime pocket pussy!
If you are curious about what a real vagina feels like, these anime pocket pussies will help you! Every anime pocket pussy in this list has high-quality materials that are elastic and firm.
1. Puni Virgin Zero Lv. 2
The Puni Virgin Zero Lv.2 from the legendary G Project series is a pocket pussy that keeps you masturbating for hours. Other anime pocket pussies, on the other hand, are over-stimulating and intense so that you finish the toy before playing with it enough. However, Puni Virgin Zero Lv.2 delivers an entirely different experience. The tunnel is large and has comfortable spaces inside. Using this pocket pussy, you can enjoy masturbating for a long time without feeling overstimulated.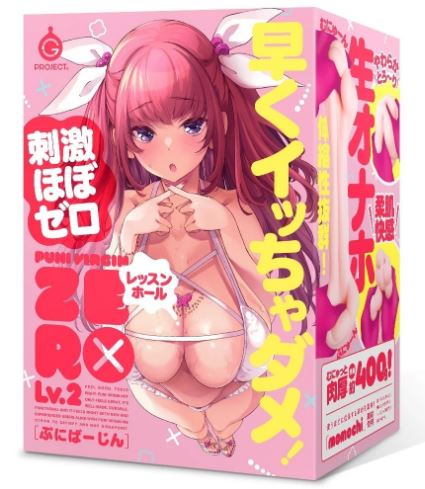 On the outside, it has soft skin and detailed labia. You would feel the 120mm-long vaginal tunnel ready to squeeze on your dick when you go inside. With its TPE material, the anime pocket pussy has a natural look and feel. But it still retains the elasticity to pleasure you!
With the Puni Virgin Zero Lv. 2, you could learn to hold your ejaculation longer by gently massaging and squeezing it along your shaft. This anime pocket pussy also comes with three different-sized cock rings so that you can take your pick.
If you want to have an anime pocket pussy, make sure to try this one. Its unique design and soft silicone material will make you moan.
2. Hon-Mono Senbiki
Hon-Mono Senbiki Named after the Japanese phrase "The Real thing,", this sex toy mimics the real vagina. It weighs only 420 g and features a voluptuous female ninja waiting to service your dick.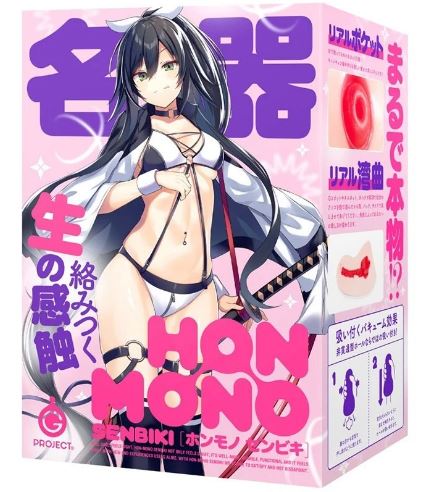 The toy's exterior is in line with the warrior theme illustration from the packaging. Thanks to the lightweight material, the anime pocket pussy is also easy to hold in your hand, enhancing your experience.
Upon entering, you will go through a long narrow tunnel, feeling the tight texture as you slide deep. Delicate folds run in all directions, rubbing against you and creating a tingling stimulus. The sealed back of the anime pocket pussy creates a vacuum that will suck you inside.
3. The Secret of Meiki
Many brands of anime pocket pussies are roughly cylindrical, with maybe some slight curves to make them look sexually arousing. The Secret of Meiki's designers had a different design in mind. The anime pocket pussy is small enough to be held with one hand but wide enough to have a slender waist attached to its pussy. This design gives you a firm grip as you slide down this anime pocket pussy along your shaft.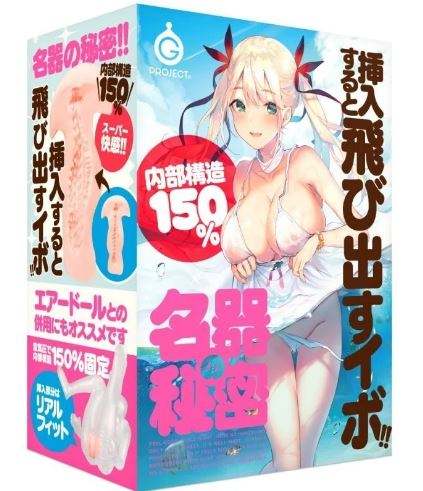 Once you are inside this anime pocket pussy, there are small ridges that immediately massage your dick at the entrance. After you push deeper beyond the entrance, you will feel the tighter texture of the 12.5 cm long main tunnel. The main tunnel will make you cum in a few strokes, thanks to its massaging nubs and ridges.
If that is not enough, you can feel the ridges squirm around a little with every thrust, adding a side-to-side motion on top of your in-and-out thrusts. At the back of the Secret of Meiki, the textures meet in a small 360-degree end chamber where they will wrap around your glans every time you push inside.
All these textures blend in a wave of pleasure. Also, if you like varied stimulation, you can twist and turn the anime pocket pussy to make the different textures hit different spots. As a bonus, the tunnel is extra thick so you will not feel your fingers while using the sex toy. But you can still squeeze down to increase the pressure and intensity of your masturbation.
4. Former-Taimanin Shiranui – Voluptuous Widow Hole
If you are a fan of the Taimanin Shiranui, a group of big-breasted anime characters, then this pocket pussy might be the best for you! Inspired by the Taimanin character Shiranui Mizuki, this anime pocket pussy has an 18cm-long vaginal tunnel with multiple layers.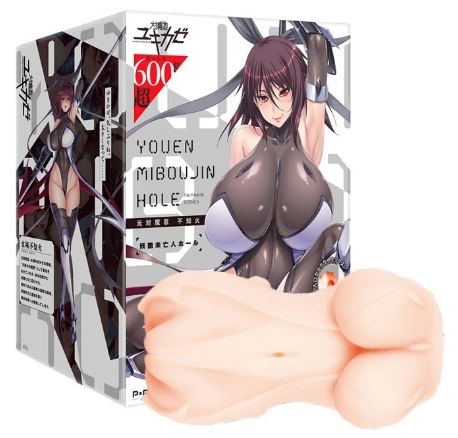 This mini sex doll is shaped beautifully and accurately after the large-breasted widow Shiranui Mizuki in her full costume. With the whole dimension being 112-60-88cm, this anime pocket pussy gives you a good grip without sacrificing elasticity and tightness.
Also, the designers have meticulously remade the image of her costume into the exterior of this onahole. The design is why you can not only see the outline of her sexy outfit on this onahole, but you can feel it as well.
As you enter the vaginal entrance, you would feel a double helix-like twirl that tightens at the start and then again in the middle. Not only that, these tighter spots will barely dilate, and they will remain tight throughout your entire masturbation session.
As you penetrate deeper from the anime pocket pussy's entrance, you will find a different set of tight sections followed by short, more open spaces. These will, in turn, make sure that each layer feels more intense with each thrust. Finally, behind the upper part of the vaginal tunnel, you will find a somewhat open space inside with bumps, which will create a vacuum when pressed down. The suction combined with the consistent tightness of this anime pocket pussy is sure to drive you wild!
You could use Shiranui Mizuki while watching your favorite anime or hentai video. If she already arouses you as a character, you could stare down at the packaging. From it, you could see a lustful Shiranui Mizuki.
5. Kasya Musume
Fulfill your sexual desires with a biker girl using Kasya Musume, an anime pocket pussy featuring a daring biker girl. Designed with "Virgin Skin," a trademarked material by Toysheart, Kasya Musume offers a vaginal tunnel that is not sticky, not smelly, and not fragile.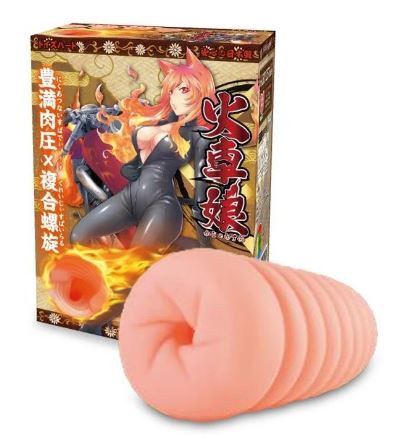 The material of Kasya Musume is elastic and firm on the outside but tight on the inside. In her vaginal entry, there are rotating grooves leading into the middle, creating a tight space. You can quickly get in when you have this type of vaginal structure, even if you do not yet have a full erection.
In a section following the vaginal entrance are micro-ridges and a thick bump. As if vaginal membranes were grabbing and massaging your shaft, micro-ridges create a clinging sensation.
Depending on how long your dick is, you might be able to push deeper than the entrance to feel resistance where the tunnel tightens. As you walk through the tunnel, spiraling ridges bombard you from all sides, with one large spiral creating a recess in the wall. The soft material bends and wraps around you in sometimes unexpected ways, enhancing your pleasure.
Differences between anime pocket pussies and regular fleshlights
Aside from the price, are you confused about what sets anime pussies apart from a regular fleshlight? Here are the significant differences you could observe when using an anime sex toy.
Packaging
Anime sex toys often come in boxes full of Japanese words and product descriptions. Some otakus have no problem understanding these words. But if you expect to have an English version of these texts, don't keep your hopes up.
While the packaging might be full of Japanese texts, it is also full of pictures of seductive anime characters. Some of these images leave nothing to the imagination. So if you're a fan of hentai and anime, you should not quickly discard the packaging of anime sex toys.
Mold
Sex toy brands often partner with famous pornstars to mold pocket pussies. Anime sex toys, on the other hand, use different molds than regular toys.
Most of the molds used in anime sex toys are from the work of researchers and product developers instead of pornstars. The molds generally feature unconventional parts such as suction cups and massage nubs that are not always present in a real vagina.
External Appearance
Regular fleshlights have a large case or a cup-holder where the pussy sleeve will be. With anime pocket pussies, there's no need for these enclosures. Although, you could insert the pocket pussy in a holder if you prefer.
Generally, fleshlights and anime pussies have cylindrical shapes, but fleshlights have no stability to balance on their own. The brunt of the weight of a fleshlight is often at the front because most fleshlights have an elaborate design on the labia, entrance hole, and tunnel. On the other hand, anime pocket pussies have a bland design resulting in a balanced weight.
Satisfy your otaku sexual surges with an anime pocket pussy now!
Do not waste time browsing hentai and jacking off with your hand. An anime pocket pussy will help you satisfy your sexual urges. With these sex toys, you no longer have to go through a hassle to satisfy your sexual urges. You could let your imagination run wild because these toys mimic the look and feel of a real vagina.
Make sure to check the material of the pocket pussy before buying it. Reading the information thoroughly will help you avoid sudden allergic reactions due to certain materials.