Table of Contents
Big squishy boobs have been one of the most favorite fetishes that men have had for years now, and there is something about these knockers that gives men a full-on erection. Seeing a big, natural pair of breasts is something to marvel at, but squeezing and titty-fucking them is another level of sexual pleasure. Natural perky boobs are like stress relievers, and if you are among those who get hard after seeing a nice pair of tits, you should check out this toy.
Feel amazing Squishy Boobs with this toy!
If you are looking for a toy with a pair of knockers to die for, the Holy Sister Oppai might be the one for you!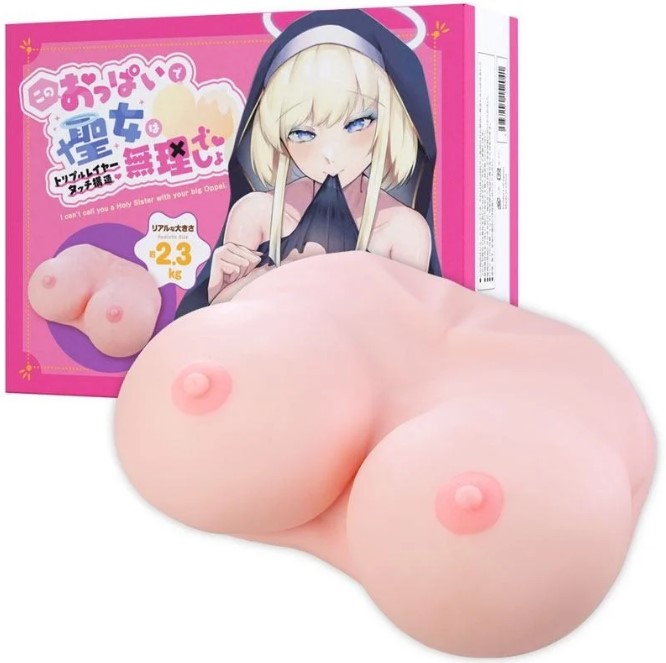 Packaged into a handy box designed with a slutty blonde nun
This sex toy has a regular box as its packaging, with an option for a discreet shipment so that you can receive it at your doorstep without prying eyes. Once you open the shipment, you immediately see a slutty blonde nun as the toy's Covergirl. The nun holds her dress upwards with both hands while biting on the top part of the dress to reveal two huge boobs with pink nipples.
To get more arousal, you could spread the box and reveal the total size of the nun's image. You could use the nun's breasts to get a full erection, even before you use the toy itself.
Aside from the cover consisting of a busty nun, the package has dozens of Japanese texts printed around it; thanks to the icons, you would immediately understand what they mean. Most of the text talks about the product features and the activities you could do with the toy, such as rubbing the breasts in a circular motion, grabbing both breasts to the entire length of your palms, and pinching the nipples. Some of the text also talks about the proper handling and maintenance procedures, so it would be practical to keep the packaging around for reference and not throw it away.
Realistic breasts with a multi-layer structure
We all know that silicone breasts often look like two heavily-inflated balloons, but that is not what you would see from the Holy Sister Oppai. Thanks to its multi-layer structure, the Holy Sister Oppai features a natural-looking pair of breasts with erect pink nipples that feel soft to the touch.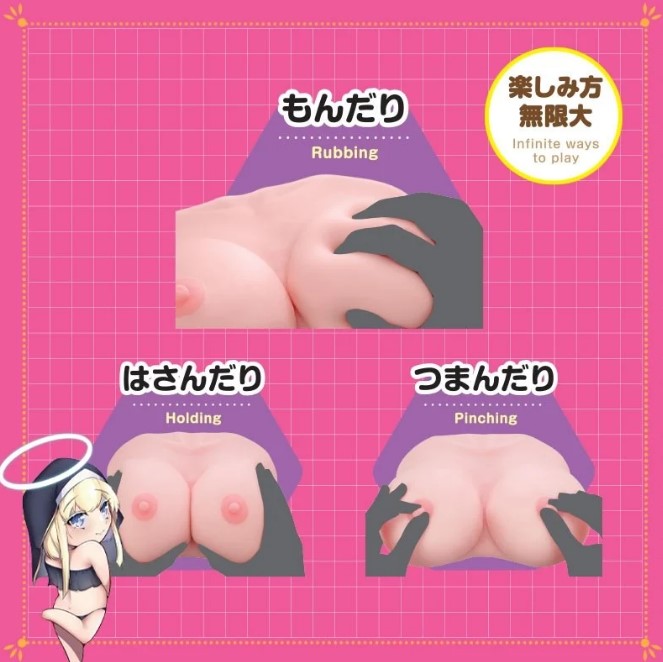 Other tit sex toys and full-body sex toys have breasts that are so firm it makes it hard for you to squeeze them with the entire length of your palms. However, the Holy Sister Oppai has breasts full of soft material inside, letting you easily squeeze it. You could grab and squeeze the breasts multiple times without straining your wrists.
There is also an outer texture that feels like natural skin that adds to the sexual stimulation and level of realism. With this skin, you could grab the breasts with your hand, put your face in between them, or squeeze your shaft in the cleavage. Additionally, the skin is compatible with most lubricants if you prefer a tit-fuck.
It weighs 2.3kg and is suitable for tit-fucks
Despite having soft, supple breasts, this toy weighs 2.3kg, which is identical to the average weight of breasts. If you put your face between the boobs and motorboat them, you would feel their weight caressing you. Of course, this weight also gives a lot of pleasure to your shaft if you go for a tit-fuck.
With a weight of 2.3kg, you could squeeze both breasts together and slide your shaft for an amazing tit-fuck. The soft skin of the breasts and the realistic weight could make you ejaculate in a few minutes, so beware. Aside from tit-fucks, you could use this toy as a pillow if you like resting your head on a pair of huge breasts to sleep peacefully.
Additionally, the weight of Holy Sister Oppai makes it easy for you to place the toy anywhere since it would not fall off easily! Do you want to attach it to a pillow so you could get more balance or combine it with your sex doll and other toys? You could easily do so with Holy Sister Oppai!
How can you get an orgasm from Squishy Boobs?
Getting an orgasm using these sex toys is a unique and hassle-free experience. With tit sex toys, you could have a tit-fuck without finding a female sexual partner with huge breasts, which is why many people love to use sex toys.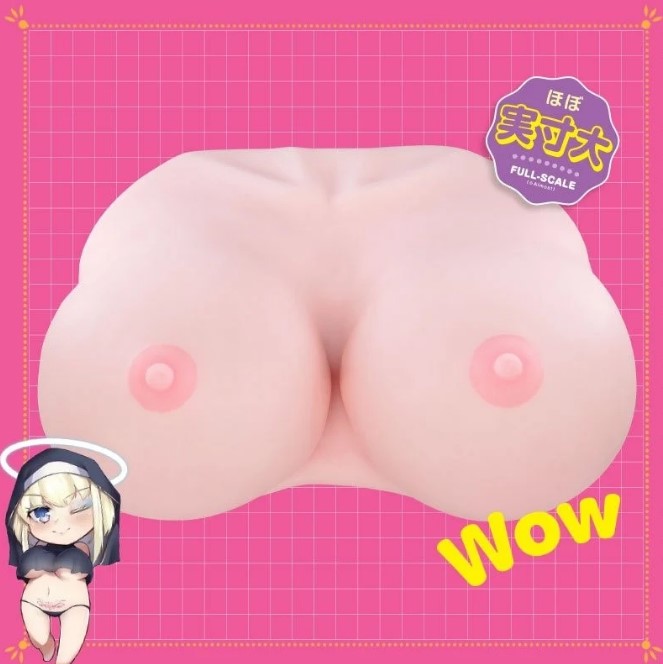 Unlike other onaholes and pocket pussies that let you stroke your shaft inside a tight hole full of ridges and lumps like a vagina, tit sex toys get you to orgasm through a sensual tit-fuck. A tit-fuck is where you squeeze two large boobs together, creating an opening where you can slide your shaft in between and stroke it using the boobs. The soft feeling of two large boobs massaging your shaft while the cleavage is rubbing against it is enough to make most people blow their load in minutes.
Aside from squeezing the two boobs together to create a hole, you can choose one boob and rub your manhood against its surface until you ejaculate. You could do this while grabbing the other boob for additional sexual stimulation. While it might not be the same feeling as your hand or two boobs squeezing against your shaft, it is still a unique and pleasurable experience that you should try!
Is it safe to use sex toys with squishy boobs?
Tit sex toys are generally from the same material as most onaholes and pocket pussies. However, there are some risks to your health if you are not careful enough. Here are a few tips so you can enjoy these sex toys without harming yourself.
Check the material of the toy before rubbing your shaft on it
Before buying any tit sex toys, you should check the material used in creating the toy. Some toys have material that triggers skin allergies of people, and if you have an allergy, you do not want to trigger it on your shaft. Rashes, itches, and red patches could arise if you unconsciously use a sex toy that contains allergic materials and does not want those to happen to your shaft.
As a standard, you should use sex toys with a TPE material as this is one of the safest yet high-quality materials available. This material is compatible with most lubricants and does not trigger most skin allergies. Additionally, this material adjusts well with temperature, so if you have a sex toy with TPE, you could warm the toy in a few minutes, to add pleasure to your masturbation session.
Most of the time, you could refer to the packaging or the instruction manual regarding which material the manufacturer used to create the sex toy. You could also check the shop's website or an online product catalog before ordering tit sex toys online. Finding, reading, and understanding these labels is crucial to know what material is inside your sex toy.
Use lubricant on the cleavage if you want to titty-fuck
Even if the breasts on a sex toy look natural, apply lubricant on the cleavage or directly on the breasts if you want to have a good titty-fuck. Applying lubricant removes unnecessary friction between your shaft and the toy's cleavage. Also, the wet sensation that the lubricant gives would make it feel like your shaft is on a slip-and-slide adventure to ejaculation.
If you titty-fuck the breasts of a sex toy while it is dry, you might experience a burning sensation because your skin would be scratching against plastic material. Not only will this leave an uncomfortable feeling, but it might cause the skin of your shaft to tear. You might also have difficulty stroking in and out of the opening between two breasts because the breasts' skins will grip your shaft.
So if you want a pleasurable titty-fuck experience, you should use a lubricant on these sex toys. With a lubricant, you can thrust at any speed, intensity, and technique that will get you to ejaculate. Use only lubricants that are compatible with your toy, and do not use your spit, as it will immediately dry up and leave a sticky, unhygienic, and uncomfortable mess on your toy.
When titty-fucking, do not squeeze the boobs together too much
We all feel that a tight hole could make the shaft blow quickly, but this is not the case. If you squeeze the tits together while your manhood is in between, it might suffocate the blood vessels inside your shaft. You might start to lose the pleasurable sensation, and you will likely end up throwing your mood off.
Avoid squeezing the boobs together too much, and do not rush things. Start with slow strokes, and enjoy the feeling of your shaft rubbing against the skin of your toy's breasts.
Get your Squishy Boobs now!
Are you thrilled to feel two perfect boobs rubbing against your shaft? You can now order the toy and choose from different payment methods and shipping options!