Many people dive into the weirdest hentai categories when exhausting their libido and exploring sexual pleasures. In the literal Japanese translation, the word "hentai" means pervert. However, many associated the word with animated videos with sexually explicit content. Manga, or the Japanese counterpart of comic books, could also be considered hentai. That is if the content focuses on sexual pleasure and the like.
Like pornography, hentai has categories, most of them named after Japanese words. Here are some of the weirdest hentai categories that will pique your curiosity and may even be enough for your fetish.
1. Bukkake
One of the weirdest hentai categories is bukkake. This term refers to hentai that focuses on excessive fluids splashed onto a submissive individual or group of individuals. Fluids include semen, vaginal discharges, and other exotic lubricants.
Many view bukkake as one of the weirdest hentai categories because the sexual content featured is far from what real people could produce. If you plan to check out bukkake, make sure you do not have hydrophobia or fear of liquids because you will find lots of fluids in bukkake scenes.
2. Ryona
Based on its Japanese translation, Ryona is a compound word that means "seeking the extreme" and "male masturbation." Many hentai enthusiasts consider this the weirdest hentai because of the level of domination portrayed.
In Ryona, sexual abuse of women at an extreme level is the centerpiece. Most of the abuses portrayed are similar to human rights violations and crimes against women with grave punishments. As part of the weirdest hentai, some may find Ryona too extreme and should not be on the internet.
3. Doujinshi
Doujinshi is the hentai category that covers hentai featuring a style of parody, satire, and cartoons. It also features hentai created from popular cultures like anime or manga characters.
If you are among the fans of popular anime such as Naruto or Dragon Ball, then there is a high chance your favorite anime series has a Doujinshi based on them. You might even see some of your adolescent sexual fantasies from your favorite anime series come true through Doujinshi.
4. Netorare
Like the "cuckold" genre of pornography, Netorare revolves around a woman's infidelity towards her male partner. However, the woman's infidelity is often a result of torture and blackmail.
Many people, especially males, are fetishizing Netorare despite its premise, making it one of the weirdest hentai on the internet.
5. Futomomo
As most men do, if you have a fetish for thick thighs, then Futomomo might be the weird hentai category for you. This category is in this list of weirdest hentai because of its portrayal of women's thighs.
In Futomomo, characters are drawn and portrayed with gigantic butts and thighs. The portrayal is far from these body parts' natural sizes. To help you imagine what characters in Futomomo hentai look like, try imagining the magazine and internet models with surgically enlarged butts and thighs that look like pancakes.
6. Loli & Shota
Often considered as bordering pedophilia, Loli & Shota portrays extremely young-looking characters that generally have short statures. Loli is the female counterpart, and Shota represents young boys.
It is among the weirdest hentai because even the characters' voices mimic those of young people, but they engage in sexual intercourse.
7. Hiyake Ato
Tan lines and bimbos are the centerpieces of Hiyake Ato. Not that many people find tan lines attractive, and most people go to great lengths to hide tan lines. But for many hentai enthusiasts, this hentai category satisfies their fetish.
8. Hinnyuu & Bakunyuu
When it comes to fetishes, breasts are among the top, but hentai is known for exaggerating everything. The words Hinnyuu & Bakunyuu refer to the size of women's breasts. Hinnyuu focuses on flat-chested women, while Bakunyuu focuses on women with large breasts.
In Hinnyuu, flat-chested women have longer legs and bigger butts, while in Bakunyuu, women with large breasts have flat stomachs and slender bodies. Most of the scenes and frames portraying sexual activity in Hinnyuu & Bakunyuu are focused on a women's breasts. The women's faces and other expressions are unimportant in this hentai category.
9. Yuri & Yaoi
Directly from the Japanese translation of "same love," Yuri & Yaoi is similar to the lesbian and gay categories of pornography. Yuri represents girls' love and sexual adventures between two women, while Yaoi is for the male counterpart.
In Yuri & Yaoi, one hyper-aggressive person often initiates sexual activities with an innocent counterpart. Eventually, the innocent person gives in to their desires and becomes addicted to sexual pleasure.
10. Mecosuji
When it comes to hentai, fetishes are the main focus, and regardless of how weird your fetish is, there is equally strange hentai to match your desires. Compared to other hentai categories that focus on the fetishization of body parts or sexual domination, Mecosuji revolves around the camel toe. In many urban slangs, camel toe refers to the silhouette of a woman's vagina from tight or see-through underwear.
Many men find camel toes sexy because it gives them the excitement and the urge to remove a woman's underwear and be able to see what is underneath finally. Of course, Mecosuji also covers a woman's fetish of seeing a male's penis silhouette and testicles from their underwear or jogging pants.
11. Tsundere
By this time, you would have noticed that almost all of the weirdest hentai categories focus more on sexual fetishes and not on plots. Consider Tsundere as different from the rest because this hentai category focuses on a "hard-to-get" love story that ends with the sexual intercourse of the protagonist and the lady-in-distress.
In Tsundere, a male protagonist generally starts by showing admiration for a female character who neither has an emotional interest in the protagonist nor sexual desire. The focus on courtship with the goal of genuine romance and a woman being hesitant is what makes Tsundere among the weirdest hentai categories.
12. Mae Kara Mieru Oshiri
The Mae Kara Mieru Oshiri hentai category is what others would consider the weirdest hentai. In this category, women have butts with cheeks that protrude to the front, making them visible even if they do not turn.
Furthermore, the hentai content of Mae Kara Mieru Oshiri is also paired with Futomomo content. This creates one of the weirdest hentai content that certain people enjoy.
13. Futanari
Pornography and hentai have content for all types of viewers. The pornography industry recognizes many trans and gay porn performers on various awards nights. Meanwhile, the hentai community recognizes Futanari as not just among the most-searched-for hentai but also the most-created.
Futanari features hermaphroditism wherein female characters have breasts, penises, and testicles. This hentai category is famous among many male viewers and features weird content, such as characters having enormous penises.
14. Kemonomimi
This hentai category refers to fictional characters with animal appendages such as beast ears and furry tails when taken directly from its literal Japanese meaning.
In Kemonomimi, many humanoid characters have sexual adventures through animal-like instincts and genitalia.
Hentai-Inspired Sex Toys
Now that you know some of the weirdest hentai available on the internet, it would not be long before you look them up online and try watching some of them. While watching, spice up your hentai viewing experience with hentai-inspired sex toys. These toys may even feature a hentai character that fits your sexual fetish.
Yandere XTC
This sex toy features a fleshlight and a box modeled after the famous archetype of hentai and even non-sexual anime series: an energetic young woman. The XTC Yandere Onahole is made out of silicone and has a curved handle. It has a length of 15 cm and a width of 11cm. Its size will help you penetrate deeper and feel a tighter grip.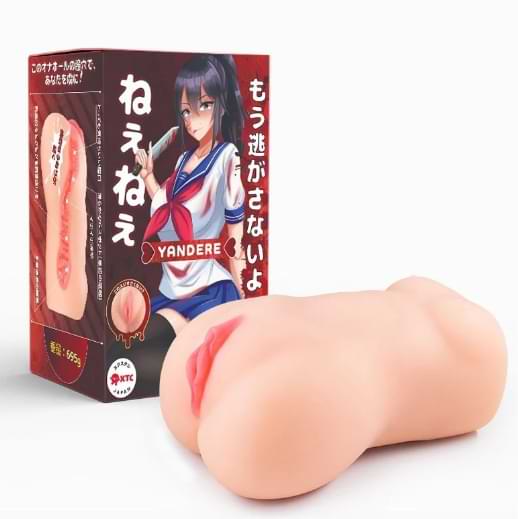 The Yandere XTC is similar to a miniature scale of a young woman's body. It has two breasts at the top and waists with a tight curve. Not to mention the pink-colored vagina with the textures of labia, clitoris, and clitoral hood. Its size allows you to hold it in one hand. But, you can use both of your hands too. Doing so will increase the intensity of your masturbation with this sex toy.
NTR Bride Hip Onahole
Have you ever felt that your hand is not enough when masturbating? Then try this onahole designed with a unique structure.
The NTR Bride Hip Onahole features a fleshlight modeled after the hips and the pelvic area of a woman. The vaginal area has a tight grip. There is also an additional hole below to stimulate the tight feeling of penetrating an anus.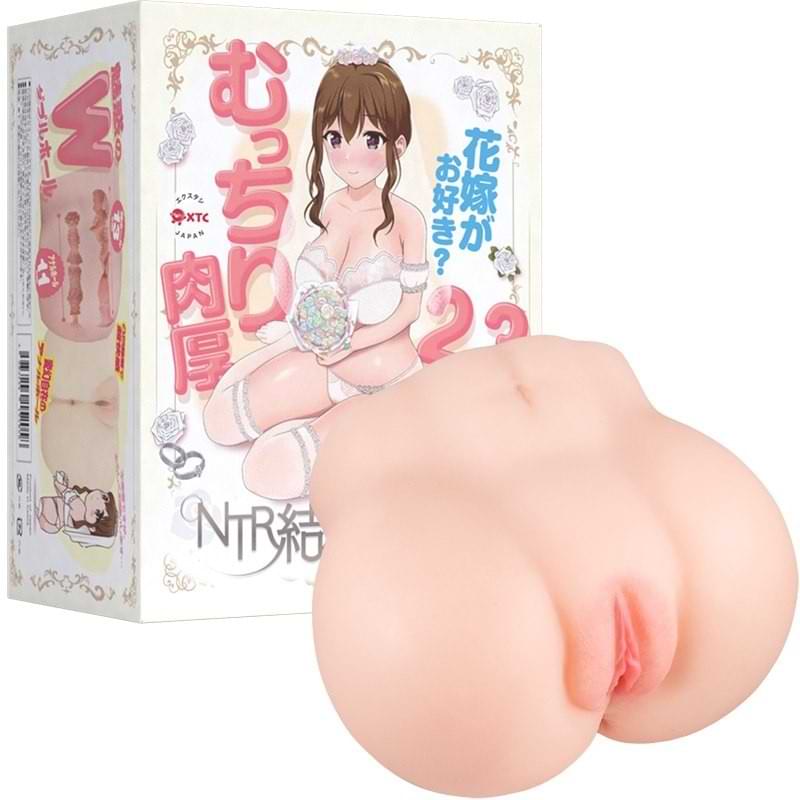 Weirdest Hentai Categories: Is it safe to explore?
Watching hentai is among the activities that many single people find effective. They usually watch this to exhaust their libido and seek sexual pleasure. Every hentai category is for the enjoyment of a group of audiences with similar sexual fetishes.
Before exploring the weirdest hentai categories, ask yourself first if you can handle the sexual content you will consume. Most of the time, our mind remembers the content we view for a long time. If you carelessly view weird hentai content, your sanity might be affected.