With the rise of technology, sex toys such as a blow job simulator and an artificial pussy are widely available for men. These toys make it easier for different types of people to get sexual pleasure without finding sexual partners.
One of the most satisfying sexual acts for men is blowjobs. A blowjob is when another person strokes your dick to orgasm using their mouth, tongue, and throat. With a blowjob simulator, you can get a blowjob anytime and anywhere you want! 
What is the difference between a blow job simulator with other sex toys?
The main difference between a blowjob sex toy from fleshlights and pocket pussies, is the design. If you tried a fleshlight and a pocket pussy before, you would notice that these resemble vaginas. Some fleshlights have aesthetic details, such as a realistic clitoris, puffy labia, and curly pubic hair. 
When you buy a blow job simulator, you will immediately notice that the toy's hole resembles a human mouth. Some toys have a complete set of frontal teeth made out of rubber, while others have a slippery tongue protruding out of the toy. As you shove your dick deep into the toy, you would feel its inner tunnel structure that resembles a human throat. 
With a different design, blow job sex toys provide a distinct sensation compared to anal fleshlights or other toys. However, like other sex toys, it is best to use lubricant and a blowjob toy to experience intense sexual pleasure. 
Top 10 Blowjob simulators you should try
1. Julia! Fella-man two-way hole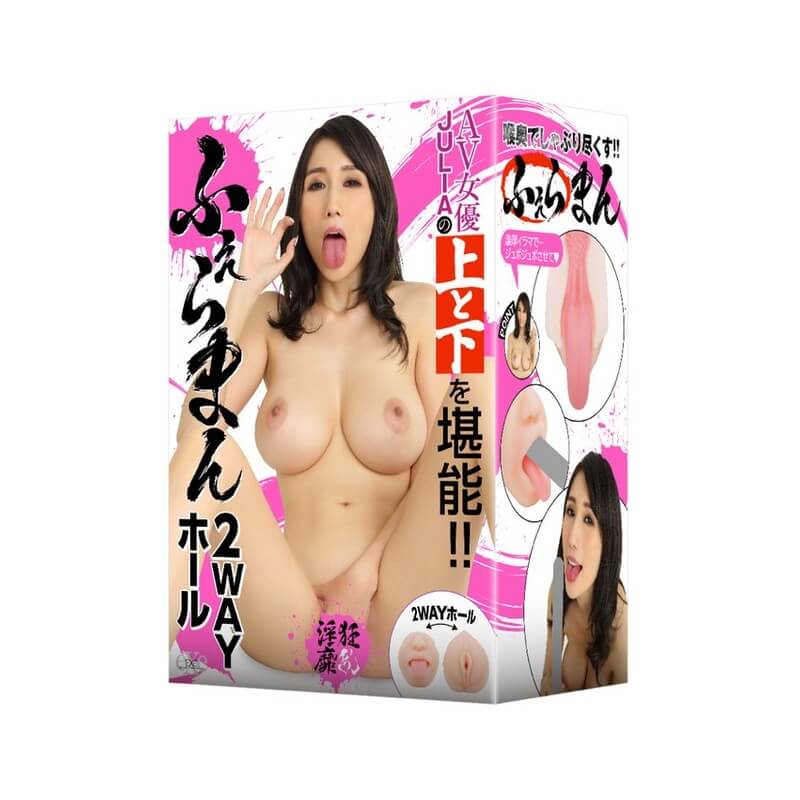 If you are not yet familiar with Julia, you are in for a surprise. She has starred in numerous blowjob videos, whether it is sloppy or slow and steady. With this toy, you could fuck an artificial mouth and pussy based on her!
If you want a blowjob, you could use this toy's realistic mouth with a tongue sticking out. Once your dick is inside, you will feel soft beads on the palate. To increase stimulation, you could squeeze the toy. These beads will tighten down on your dick and give it a gentle massage as you stroke it.
On the other end of this toy, you could fuck an artificial pussy based on Julia's actual vagina. The pussy has a labia, an entire clitoris, and a vaginal hole.
2. Hashimoto Arina! Fella-man 2WAY hole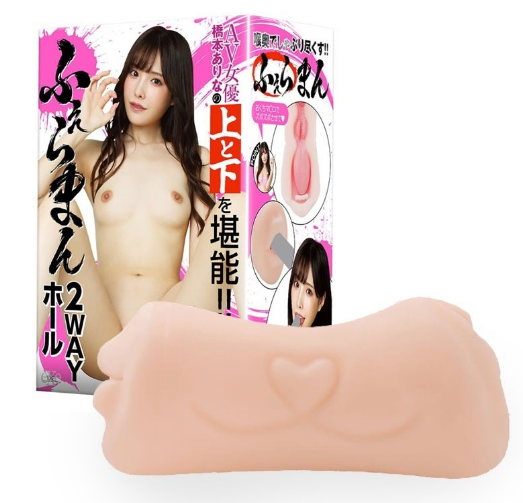 Maybe you have watched Hashimoto Arina in action before? The JAV Actress debuted in 2013 and has already starred in over a hundred videos. It is known among JAV enthusiasts that she is among the best blowjob performers in the industry. 
Thanks to Fella-man 2WAY hole, you could use Hashimoto's mouth and pussy to satisfy your sexual urges! This toy has a length of 17.5cm and a width of 6.2cm, which can fit your dick easily. With its weight of 435 grams, you could use this to stroke your dick while watching your favorite video of her!
3. Geki-Fera Indecent Maria Nagai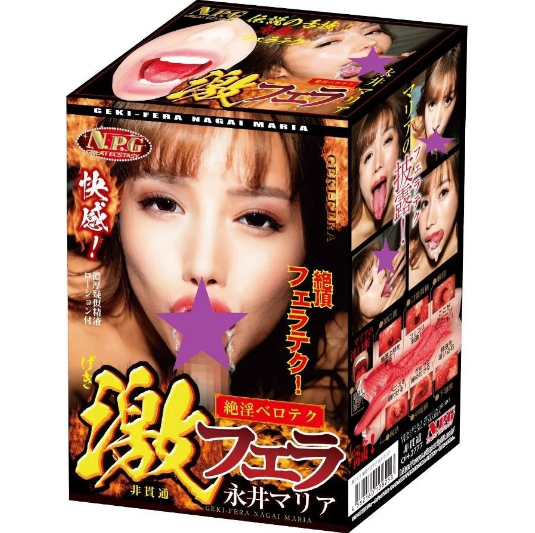 Try this blowjob toy that resembles the mouth, lips, tongue, and throat of Maria Nagai, one of the legendary JAV actresses. Maria Nagai started her JAV industry right after high school. Her fitness dedication sets her apart from other actresses, and she has won several fitness competitions! 
This toy is not your boring average onahole featuring Maria Nagai on the toy's packaging. The manufacturer, NPG, made it their mission to mold this toy according to Maria Nagai's mouth, lips, and tongue.
You could use this toy for an intense deepthroat experience because the toy's throat has a tighter tunnel than its mouth. Once you go deep, your dick would reach the uvula-covered suction cups and thick bumps similar to the contraction of throat muscles.
4. Geki Fera Kirishima Sakura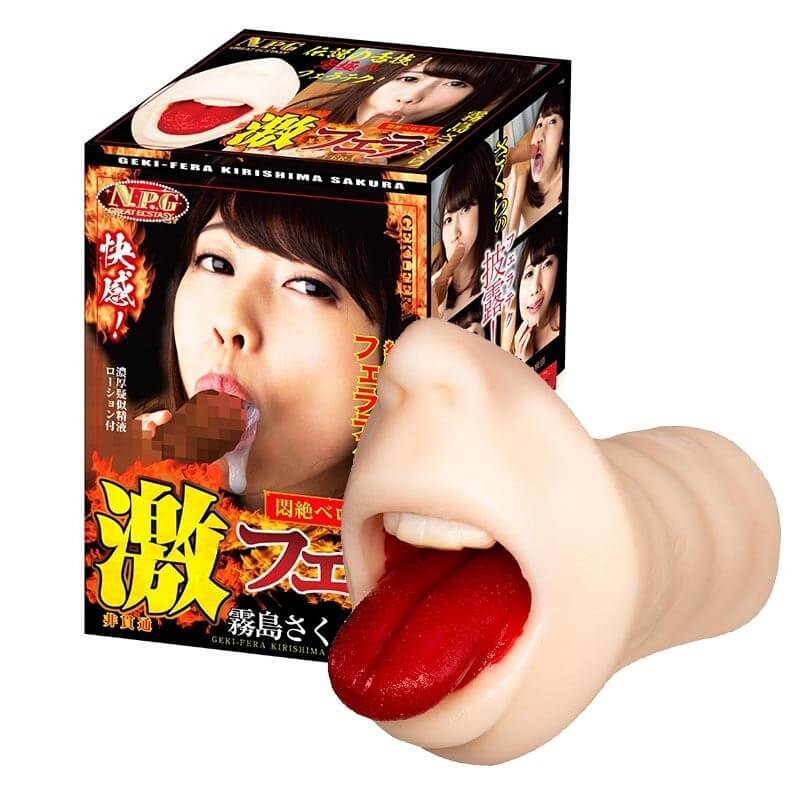 Unlike other blowjob toys, this toy has a set of rubber teeth and a nose detailed on top of the mouth. If you are into the face-fucking fetish, you could pour excessive lubricant and shove your dick deep to watch it spill out of the nose.
Even if you thrust hard into this toy, this toy will not break. Its mouth is elastic to give your dick a massaging sensation, while the tongue and the tunnel are sturdy enough to handle your frenzy.
5. Geki-Fera Vacuum Aika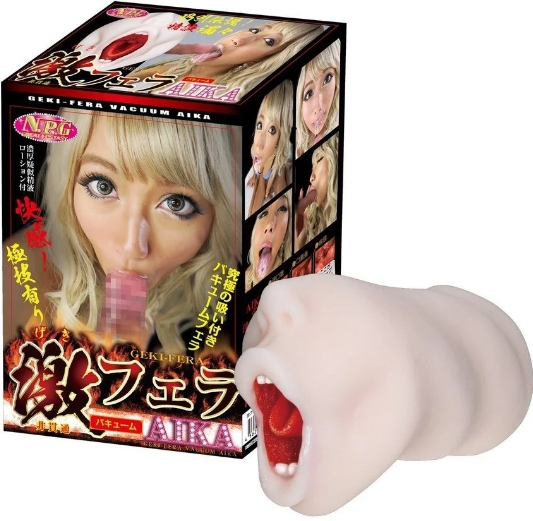 If you were amazed by the Geki-Fera above, you would love this version modeled after Aika. She is among the top JAV actresses on this list, but unfortunately, she is now retired. Since her retirement, many sex toy manufacturers have collaborated with her. 
Now, you can enjoy a dual-layered blowjob toy modeled after Aika that is guaranteed to help you cum in minutes. Starting with its packaging, you would see her kneeling while sucking a dick while flaunting her blond hair and famous googly eyes. 
The toy's first layer feels like soft skin from the face, but its inside layer will give you intense sexual stimulation. The inside layer has a red tongue and a tight tunnel with a width of 8.5cm. Remember to use lubricant because this toy's mouth is tight, and it might be hard to penetrate without lubrication. 
6. Puni Ana F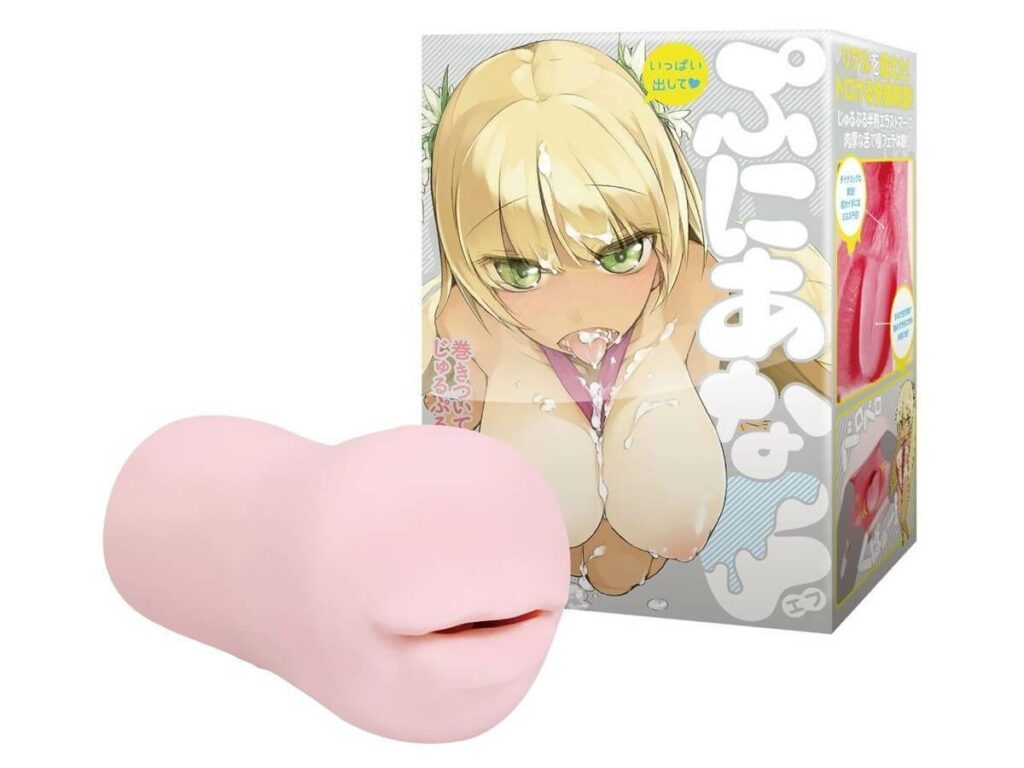 Anime lovers will love this Puni Ana F blowjob toy featuring EXE's mascot, blonde Ana, with big breasts! This oral masturbator weighs only 330 grams, but its internal structure feels realistic and intensely stimulating. 
Unlike other blowjob toys, the Puni Ana F has a tight slit instead of a wide open mouth so that your dick would feel it stretch once you penetrate it. This slit is elastic, and you can stretch it according to your preferred intensity. You could even go balls-deep so that its firm lips massage your balls while penetrating the throat.
7. Magic face 2 Yukikaze ultimate blowjob experience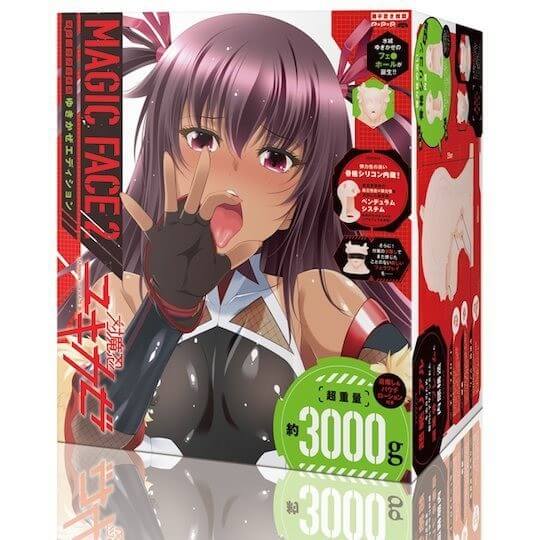 Are you looking for a unique blowjob toy? You should try the Magic Face2, which features ponytails as handholds, and two throats! 
This toy has an internal skeleton for stability and lets you place it on any surface you want. You could place this on a desk and fuck your way to its throat. If you have a sex doll, you could use pair this toy with it so you would have intense sexual stimulation. 
Once inside this toy, you can shove your dick into its first throat structure directly behind the mouth. However, if you want something tighter, you could shove your dick a couple of inches into a separate tunnel. Even though this anatomical structure is not realistic, each tunnel provides unique stimulation for you!
8. ONDO!NUPU 2
Many men believe that a tight hole helps you achieve a good orgasm. The manufacturers of this toy took that belief to heart and incorporated it into the design.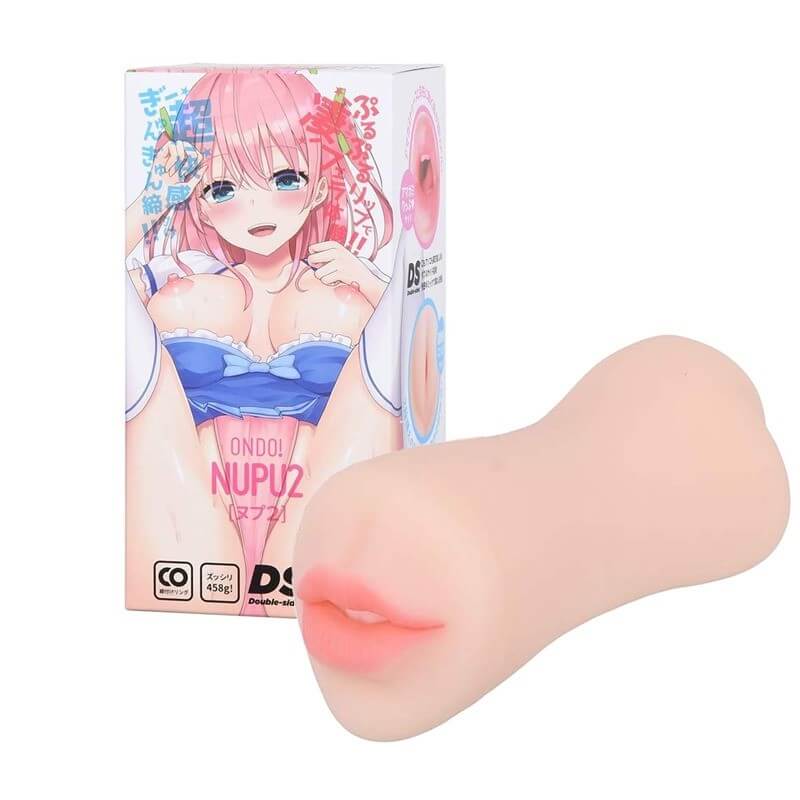 If you want it tight, then this toy has it for you! The ONDO!NUPU 2 has tightening rings embedded on the inner walls of the toy so it would feel realistic.
While this toy has tightening rings, the internal structure is not so tight that you would not be able to enjoy penetrating it. With decent lubrication, you could stretch this toy with your dick, and you would feel the rings as a stimulator instead of hindrances to your orgasm.
9. La Bocca Della Verita Perorin Hard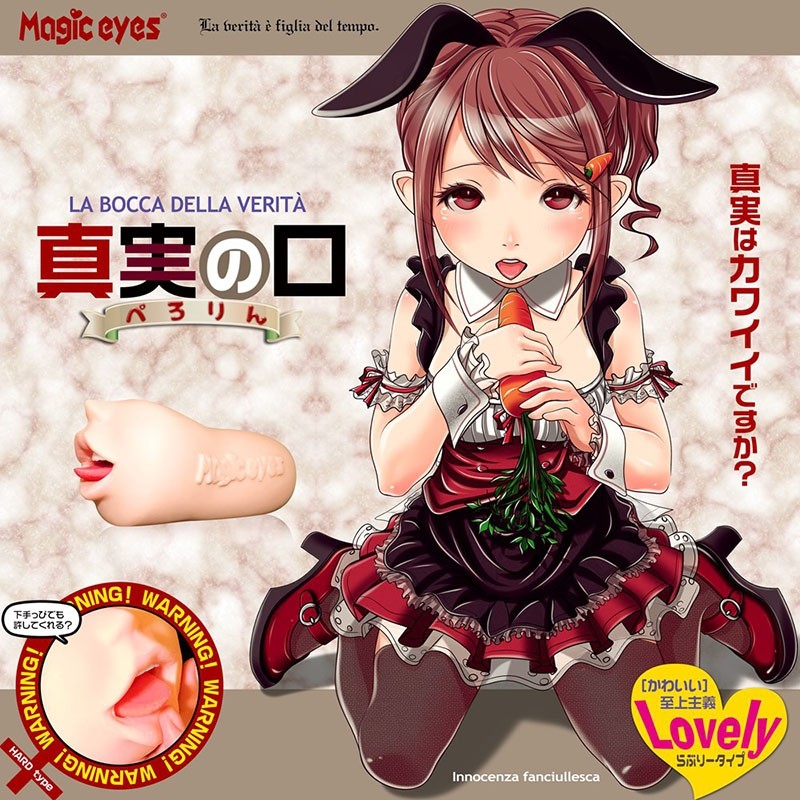 Go into town with this lightweight blowjob toy 14.5cm long and 7. 5cm wide. However, do not let its weight fool you because inside, its walls are heavy enough to push and massage your dick to orgasm.
This La Bocca toy also has grips on the outer layer so you can comfortably place your hand in them while stroking your dick. These grips allow you to squeeze the toy and pressure it directly inside. 
When you are inside, the first part to stimulate you will be its firm tongue. You could slide your dick in and out or go deep and let the tongue massage your balls. To get maximum sexual pleasure, you could push into the throat and squeeze the toy so that the teeth, palate, and throat would compress on the tip of your dick.
10. Magic face
Regarding the versatility of blowjob toys, the Magic face is at the top of the list. The toy's design allows you to use it without your hands! You could place it on a couch, between your pillows, or on a chair.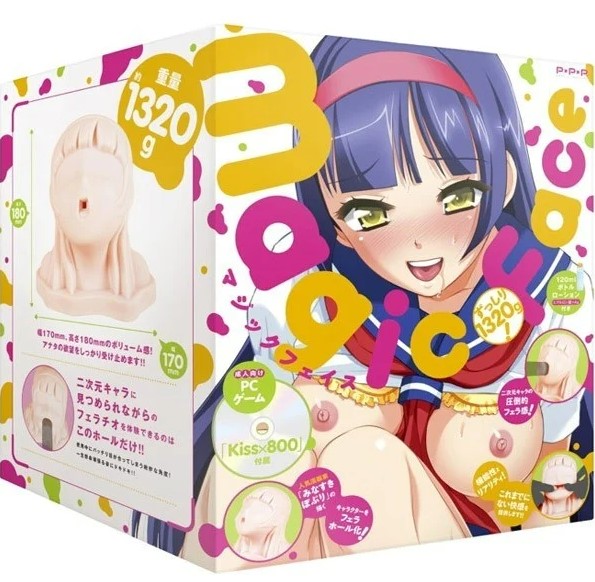 Thanks to its wide, open mouth, you could quickly thrust inside with your rock-hard dick without lubrication. Additionally, the head has a ball joint attached to its neck so that it would rock back and forth even with a little push. You could give her a deep thrust and then watch the toy stroke your dick by itself.
If you prefer a rougher approach, you could grab the back of the toy's head and thrust your dick down its throat. Of course, lubrication would help you get off quicker, but you could enjoy this toy on its own!
Get your dick sucked by a blow job simulator now!
Whenever you have an urge to get your dick sucked, you do not have to go into dating apps or find sexual partners! You could easily buy a blow job simulator that will blow your mind and your dick at the same time. 
Remember that you still have to use lubricants and proper cleaning substances to your blow job toys to keep them sturdy until your next session.