Table of Contents
During adolescent years, most males do not know what to do with an erection, let alone understand the different ways to jerk off. Most of them would start stroking their dick slowly and remember how it feels until adulthood. Others get caught a few times while living in their parents' house. 
But if you are now an adult and still jerk off the same way you did back in seventh grade, maybe it's time for a change! There are plenty of ways to jerk off. You could do most of them for free, but if some require you to buy additional equipment.
Why is it important to know different ways to jerk off
Learning to masturbate is often done during adolescence when you must do it fast and quietly. If your parents hear something unusual in your room, your only layer of the cover is a blanket or jacket. It might sound simple, but your early habits, especially masturbation, are carried over to adulthood.
Social stigma also affected people exploring different ways to jerk off. Most people see self-pleasure and masturbation as "boring" and "shameful" because you cannot get a sexual partner. In reality, this is not entirely true!
Most males masturbate using a rushed stroke because that is what they have been doing since childhood. Usually, they stroke with one hand and hold a phone or their trousers in the other. Soon, they start to lose the sexual excitement of masturbation and do it as something to calm them down or help them sleep.
Many medical professionals and scientists encourage exploring your sexuality and engaging in masturbation to better understand yourself. When you masturbate, you can feel which body parts are more sensitive than the others. For example, if you try to push up your balls while stroking your dick, a different sensation comes up.
If you are sitting there and reading this, thinking, "no, I'll pass," don't give up just yet! Switching up how you masturbate helps you have a better mood. Aside from making you better at sex, it also helps your personal life.
Is it safe to try different ways to jerk off
So if you want to mix things up and try different ways to jerk off, you should remember to do it safely. Stay away from your rushed strokes and chokeholds on your dick. If you want to try different masturbation techniques, these simple tips will help you.
Limber up and stretch
Have you ever experienced cramping up and having stiff thighs while masturbating, and you are close to orgasms? As you grow old, these sudden cramps could prove risky for you. Not only will it disturb your masturbation, but it could also lead to severe cases such as heart attacks.
So, before masturbating, it is better to warm up or stretch. It might sound weird and look like you are preparing for a marathon, but it works. As you warm up, your blood flows freely, and the muscles in your legs and pelvis get activated, making it easy for you to control your orgasms.
You could warm up by doing a few jumping jacks or jogging in place for a few seconds. Any exercise that could get your feet to move and sweat to drop is good enough.
Adjust your grip
Remember that you are holding your dick and not the control stick of a helicopter. Your dick is full of blood vessels covered by skin, so if you grip it too hard, you might suffocate it. Aside from choking it, having a tight grip removes the sexual pleasure you will get.
Know when to pause
If you feel pain while jerking off, try pausing for a while. It is your dick telling you already that it needs a break. So, give it a little pause, rehydrate, and then when you feel okay, you could resume.
In some cases, you might feel sweaty or dizzy because as you masturbate, your body temperature goes up. During these situations, you could either grab a fan and aim it towards you or turn the AC on. You should take a break immediately if nothing relieves the heat or the dizziness.
10 Different ways to jerk off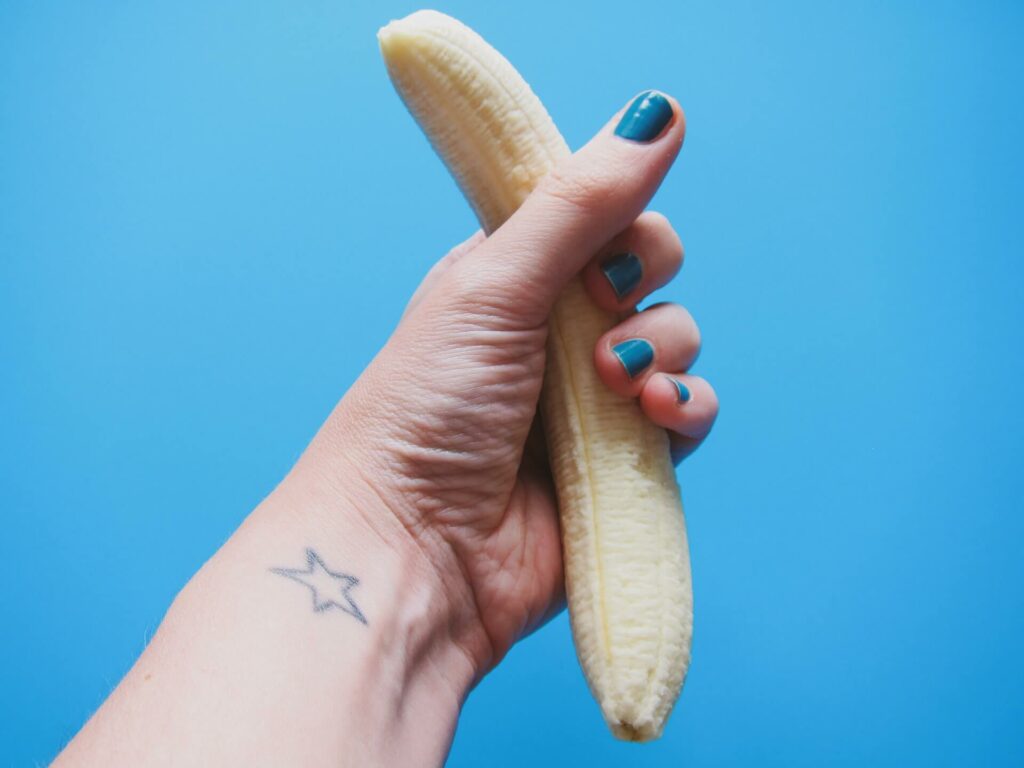 Try these techniques on your next masturbation session:
Try different positions
First up is that you need to change your masturbation position. If you are used to masturbating while lying on your back, try standing up. You could even try splitting two positions in one session, masturbate while laying down for a few minutes, then masturbate while standing up until you are about to cum.
Changing the sexual position might seem trivial, but it improves how your pelvic floor muscles respond. Some positions also allow better blood flow to your penis to increase your erections and let you feel more intense with every stroke.
Work out and masturbate afterward
Work-out and orgasms are some of the best combinations in the world that would either knock you right out to sleep or give you the energy to get through the day. These two release adrenaline, dopamine, and endorphins into your body. Since work-out will facilitate a great blood flow and activate your muscles, all you have to do is stroke your dick and enjoy it until you cum.
Explore your taint
If you are unfamiliar with it, the taint is the narrow space between your balls and your penis. This area has many nerve endings and could be sensitive even if you only give it a few taps. You could press down on this area a little while masturbating to send signals to your prostate and make you feel good.
Masturbate with a fleshlight
Many males get tired of using their hands because not only does it feel rough for some, but it also puts too much pressure on their wrists. Luckily, there are now fleshlights or artificial vaginas available. Some fleshlights even have an automatic feature where they move on their own, depending on the settings you choose.
With so many fleshlights options out there, finding one could be a hassle. But, you could buy high-quality fleshlights at Motsutoys.
Try sex toys that vibrate
Yes, you read that right. There are now vibrators made for dicks. They give pulses that target your dick's veins and glans. Sometimes, these vibrations are enough to make you cum, so you do not have to stroke anymore.
Do not be afraid of anal play
Many men are afraid of exploring anal for fear that people would call them gay. These people are missing out on one of the biggest pleasure points: butts. Inside the butts, tons of nerve endings could stimulate the prostate.
If you want to explore a little anal play, you could try using a dildo paired with lubricants. You could also try small butt plugs while you are stroking your dick.
You could try using futanari sex toys so they have a vagina and a dick that you could use while masturbating. These toys are suitable for light anal play while still giving you an option to stroke your dick inside a tight and wet hole.
Use a cock ring while masturbating
Cock rings concentrate blood flow in your dick's shaft to strengthen your erection. People do this because, with stronger erections, they get better sexual experiences while masturbating. There are many cock ring sizes available at the market, but it is safe for you to try one that gives your dick a snug fit before trying other sizes.
Try different stroking speeds
Have you encountered the "death grip" situation? The death grip is when you squeeze your penis too hard or stroke too fast so that you do not feel pleasure anymore. Some men find it impossible to cum once they have experienced a death grip.
So you could mix your stroking speeds by aligning your movement to the intensity of the porn you are watching. You could also try different stroke speeds given by fleshlights.
Edge yourself
Edging has become the popular term for the masturbation method, where you stop when you are about to orgasm. Once you feel the tingling sensation of orgasm fade away, you can resume masturbating. This activity helps you control your ejaculation and have better orgasms.
Apply lubricant to your hand
Lastly, if you have no money or time to try the other techniques, this technique will help you even if you are at home. You could do this technique if you have a lubricant or any lotion.
In this technique, you would shape your hand like holding a cone and then focus your strokes on the head of your dick. The sensation of the lubricant, along with the semi-circle shape of your hand, will give a different sensation than going bare.
Explore different ways to jerk off now!
Now that you know some different ways to jerk off, you should try it. Get out of your usual jerk-off habits, and explore an entirely new set of movements. Doing so might even have better orgasms or stamina at sex!