Many are excited to use a sex toy but do not know how to use a fleshlight. If used correctly, fleshlights could give you more benefits besides a good orgasm. So, here are the reasons and benefits of proper fleshlight usage.
Table of Contents
Why knowing how to Use a Fleshlight is important
Fleshlight beginners often imagine all the fun they would have while using it. Most of them focus on tightness, mold, and brand. But they often overlook proper fleshlight usage.
When used and maintained correctly, fleshlights could last for years! Using your fleshlight properly will give you incredible orgasms and sexual pleasures. You could also use your fleshlight for stress relief or ejaculation training.
Regardless of the brand or the material used in your fleshlight, it would still feel and look brand new if used properly. These are some reasons why knowing proper usage could be your advantage.
How to use a fleshlight
Start slow
Excitement builds up if you think of using a fleshlight to the point where the urge to use it becomes greater—but shoving your junk quickly after an erection poses risks to you and the toy.
By doing so, you would risk excessive friction to your penile skin. The fleshlight material is also prone to micro-tears or flaking that could worsen in the future.
Aside from the longevity of your toy and dick, starting slow stimulates your penis further. Most fleshlights have a tight hole, so if you enter slowly, you will feel the tightness around your dick.
Once the tip of the dick has adjusted to the sensation, you could proceed to go deep in the fleshlight. You could gradually increase speed after a slow yet pleasurable start.
Use high-quality lubricants
Most fleshlight brands include a free lubricant bottle in your purchase. Using these freebies is a good way to maximize your fleshlight and get your money's worth. However, if you want to experience a different sensation, you could purchase other lubricants, even though they would cost more.
A water-based lubricant is one of the best types of lubricants available in the market. It is compatible with various fleshlight materials such as latex, TPE, and silicone. Aside from their compatibility with fleshlights, water-based lubricants are safe for people with skin allergies or conditions.
If you want a lubricant that could delay your ejaculation, you could use a lubricant with a numbing ingredient. You could also combine it with lubricants that give your dick a cooling sensation and a pleasant smell, even after hours of masturbation.
Not sure where to look for high-quality lubricants? You could try exploring Motsutoys' diverse catalog of lubricants. Whether it is for your silicone or latex fleshlights, they have a lubricant that is fit for your toy!
Using a Fleshlight – Adjust pressure
Some of us prefer a tighter hole and more pressure when masturbating; there is nothing wrong with that. Luckily, fleshlights allow you to adjust the pressure on your dick inside the toy. But before changing to pressure, here are a few things to keep in mind.
First, let your penis adjust to the standard pressure that your fleshlight has. Usually, you could get used to it after a few minutes of masturbation with your toy. Remember to change pressure gradually because you might get the "Death Grip Syndrome."
Too much tightness and pressure on your penis will numb and restrict normal blood flow if you are not careful enough. Instead of having a good masturbation session, the Death Grip Syndrome will leave your dick numb. It could also lead to erectile problems if you frequently put too much pressure on your dick.
Combine it with other tools
Are your hands and wrists too tired after a day from work, but you want to blow some steam off? You could use your fleshlight with add-ons such as suction cups, shower mounts, and automatic shakers. These tools help you use a fleshlight without relying too much on your hands.
Using suction cups, you could place your fleshlight on your bed, couch, or the wall. The cups allow the fleshlight to stay in place, and you can masturbate hands-free, even if you increase the intensity of thrusts.
On the other hand, shower mounts are an effective tool that lets you ejaculate in the shower. You could simulate a sex-in-the-shower style with shower mounts.
However, securing the fleshlight on the mount would be best before using it. Accidentally dropping your fleshlight and breaking its case on the shower floor is not a good experience.
Lastly, you could try using your fleshlight with an automatic shaker. These tools mimic the back-and-forth movement of your hand so that you can masturbate hands-free! You could adjust the speed with automatic shakers to cum in seconds without straining your wrists.
Use it without the case
Another unique way to use your fleshlight is by ditching the case and maximizing the sleeve. Without the case, you could use the sleeve as a pocket pussy. Additionally, your hand won't carry the case's weight, so that you could relieve some pressure on your wrists' nerves.
If you apply lubricant on the sleeves, do not pour too much. It's best to drop lubricant on your dick before thrusting inside. Doing so lessens the risk of fluids leaking out of the other end of the sleeve and pouring down your floor.
Cleaning your fleshlight after use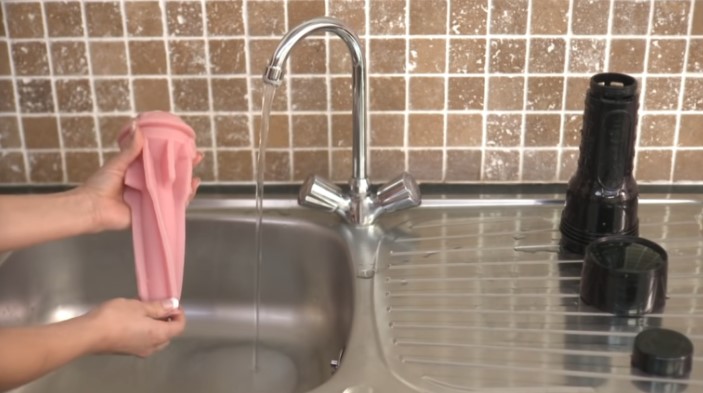 After using your fleshlight, it's a no-brainer that you should clean it. Casting your fleshlight aside after you ejaculated inside it would cause bacteria build-up. In worse cases, molds may form on the inner walls of the fleshlight, rendering it useless.
So if you want to use your fleshlight for a long time and get your money's worth, here are a few tips on how to clean it.
Altogether remove the sleeve from the case
The first thing you should do is disassemble your fleshlight. You could remove most fleshlight cases with a quick twist. But some have tight clasps and locks. So, keep the instruction manual on your fleshlight so you will know how to remove the case from the sleeve.
Removing the case with too much fluid might be hard to remove from the sleeve. One thing you could do to ease the task is to soak the case in warm water. Warm water softens the build-up, and after it dries up, you could easily twist the case away from the sleeve.
Clean the case with warm water and alcohol
Next, you could start cleaning the case using warm water and alcohol. One of the best ways to do this is by filling up a basin with a mixture of the two liquids and soaking the case inside. After that, you could wipe it off with a microfiber cloth.
Do not use brushes with abrasive thistles as they might scratch the case. It could also tear the glue seams or the connectors on the case.
Use Fleshwash on the sleeves
When cleaning the sleeves, it is important to use the appropriate liquid. The best substance to clean the sleeve with is Fleshwash because of its compatibility and cleaning agent. Fleshwash has an antibacterial agent that is safe for virtually all fleshlight material.
If you do not have Fleshwash or do not have the budget to buy it, you could use warm water and alcohol. Do not use soap on the sleeves as these could also damage the fleshlight's material. Dishwashing soap or hand wash soaps could cause flaking and tears on materials such as silicone and latex.
After pouring Fleshwash on the sleeves, scrub the insides with an extra toothbrush or a metal straw cleaner. Applying it would remove a build-up of fluids you cannot rinse off quickly. Once the insides are clean, you could rinse it again in a separate basin full of warm water.
Dry your fleshlight on a clean rack
After rinsing off the sleeve and case of your fleshlight, you should dry it before putting it back. If you have a clean rack or space in your room that is not directly facing sunlight, you could use it to dry your fleshlight.
Avoid drying your fleshlight using blowers or putting it under direct sunlight. Too much heat could damage the case and the sleeves by drying out the glue, the case's connectors, and the sleeves' material.
Store your fleshlight until the next use
Once your fleshlight is dried, you could put it together again. If you are not going to use it, you should store and hide your fleshlight in a space that is not facing direct sunlight.
Now you know how to use a fleshlight; go to town with it!
Well, at this point, the next thing you should do is have fun with your fleshlight. You could use it with your imagination, or you could use it while watching your favorite porn actress. Whichever way you choose to use your fleshlight, remember to care for it properly too.
And if you need extra hydration then check it out: TYO lubricant 12 oz.