Storing sex toys can be a tricky business, especially if you've amassed quite the collection. It can be difficult to keep them organized and away from prying eyes. And if you don't store them properly, they may become dirty and degrade over time, which shortens the performance you can get out of it.
This can leave you feeling high and dry and just generally unsatisfied. Read on to learn about the importance of proper sex toy storage and how to store your sex toy collection!
Why Proper Cleaning Is a Must
Think about it, you wouldn't put a used sock back in your dresser now would you? It's the same way for your sex toys. If you stashed an unclean fleshlight or pocket pussy, all your dried-up fluid is going to get stuck there.
It's a prime breeding ground for mold, fungi, or other bacteria. You could end up with an infection, which is especially true if you've used the toy for anal play. Not to mention, it leaves behind a nasty odor that'll surely kill the mood. And if you're using a sex toy with batteries or electricity, not cleaning it may cause the toy to degrade or malfunction.
So, aside from hygiene, proper sex toy storage and maintenance keeps your toys in excellent condition, prevents malfunction, and in turn, prolongs your pleasure. It's a win-win situation, really.
Sex Toy Storage 101
Sex toy storage involves a lot more finesse than just shoving your toys altogether in one container or drawer. Here's what you should do to keep your toys organized.
Take Stock of Your Inventory
First things first; you'll want to take a look at how many sex toys you have. So, take out all of the toys you have hidden – even the ones you're not actively using. This gives you an idea of how you should store them as well as the kind of container you'll be needing.
Keep in Mind Accessibility
When it comes to sex toy storage, you should take into account the accessibility. You can classify them according to the material. For example, all silicone toys should be grouped together in one bag, glass toys in one container, and plastic or metal in another. Or you could store them according to the frequency of usage; for instance, storing the toys in a drawer if you always use them or under the bed for rarely used ones.
Clean Them Before Stashing
Whether it's a lovemaking session or solo play, do not forget to clean your toys after every use. We can't stress this enough. You can use soap and water or a dedicated sex toy cleaner, the important thing is to clean your toys. Do not stash them without cleaning them first. Once you've washed them, dry them thoroughly and then stash them.
Wrap Them Individually
Unless your storage box or bag has individually carved out spaces for each toy, it's advisable to wrap each toy individually. This prevents it from gathering dust, dirt, and other particles like pet hair when not in use. This also prevents them from rubbing together which could cause damage or degradation.
Where to Store Them
If your toy comes with a storage box, you can simply keep them there after use. However, not all toys come with a dedicated storage. If that's the case for most of your toys, you can store them in a pouch, bag, or storage box. Whatever you decide on, keep them in a cool, dry place, away from sunlight and moisture.
Another thing to keep in mind is whether you've got children or roommates in the house. You wouldn't want them to accidentally come across your sex toy stash. But if you live alone or with a partner, you can simply store them on top of a shelf or in your bedside or dresser drawer.
Your Guide to Choosing a Storage Box
When choosing a sex toy storage, there are a few things to consider: size, material, and design.
The size of the storage box will depend on the number and size of your sex toys. If you have a small collection, a compact one such as a pouch or bag will suffice.
However, if you have a larger collection or toys of varying sizes, then you could opt for a spacious storage box with compartments or adjustable dividers to keep everything organized.
As for the material, it's important to choose a storage box that's non-porous and easy to clean. Look for hygienic materials that won't interact with the materials of your sex toys.
Finally, when it comes to the design, consider a storage box with a secure closure or lock to ensure your toys remain private and discreet.
Top 5 Sex Toy Storage Essentials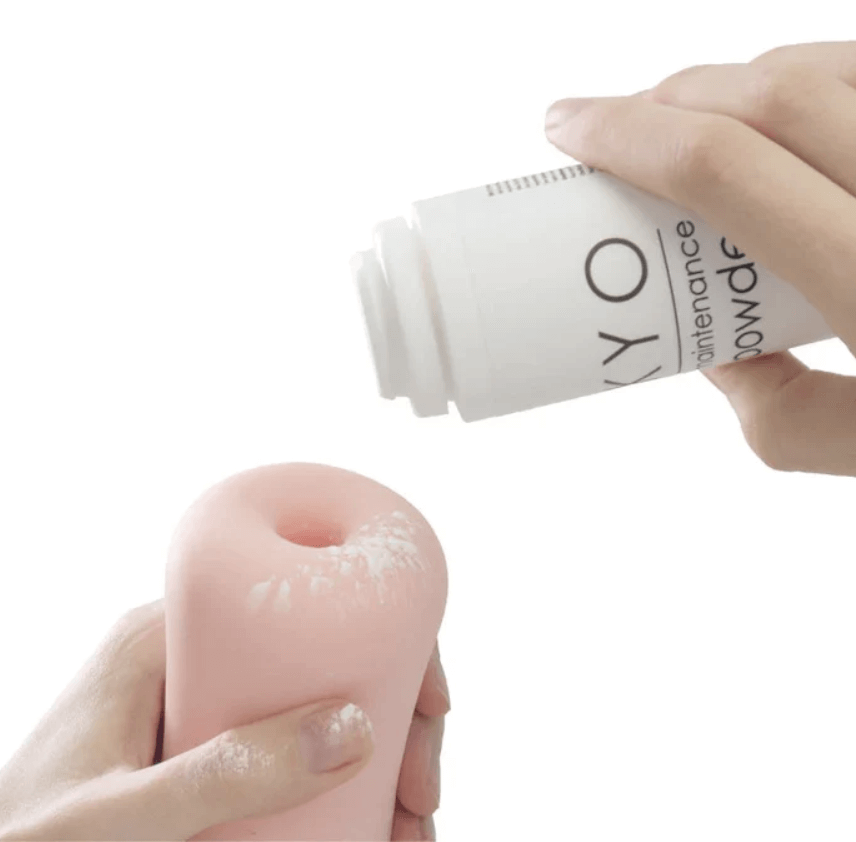 You might think that once you've cleaned your toy, you're done right? Well, not really. If you want to extend your toy's longevity, you might benefit from this maintenance powder. It absorbs excess moisture and decreases stickiness, thereby prolonging your toy's lifespan.
It's also great if you want to reduce friction and chafing in your onaholes or pocket pussies. This might seem like an extra step but it is certainly worth the effort as it keeps your sex toys all soft and ready for your next use.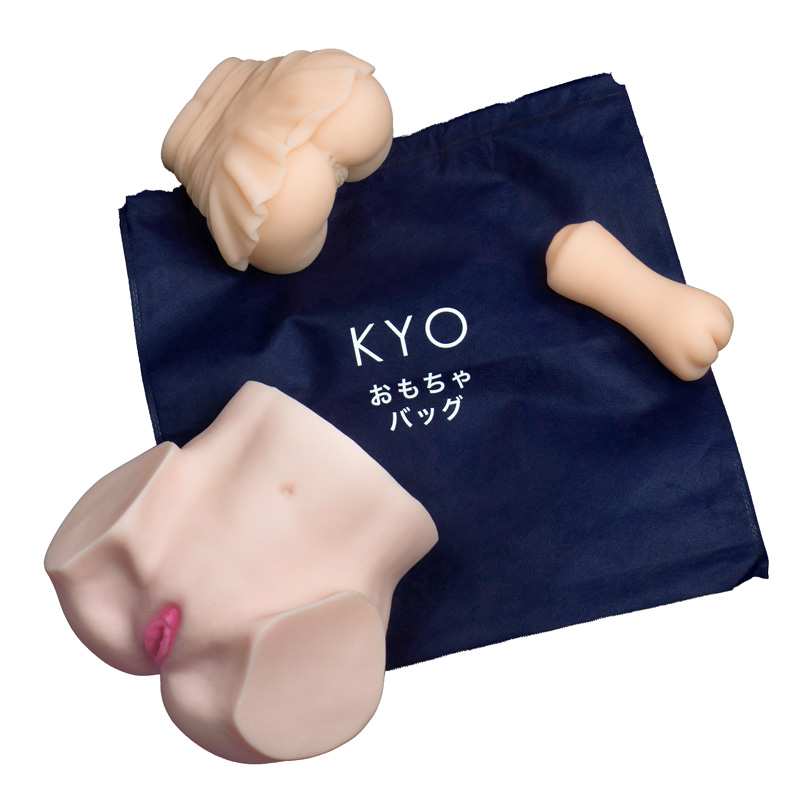 This toy sack from KYO is the only sex toy storage you'll need if you own toys on the, ahem, bigger size. At 19.7 x 19.7 inches, it's big enough for medium-sized sex dolls and sex torsos. Now you can easily fit mini sex dolls or even those big hip sex dolls or tit sex toys!
It's certainly more discreet and tidy than wrapping your sex toys in plastic wrap, that's for sure! Additionally, this bag doesn't have any pesky zippers or annoying buttons, Instead, it has a drawstring closure that ensures your toy won't snag on them. Best of all, it's 100% lint-free!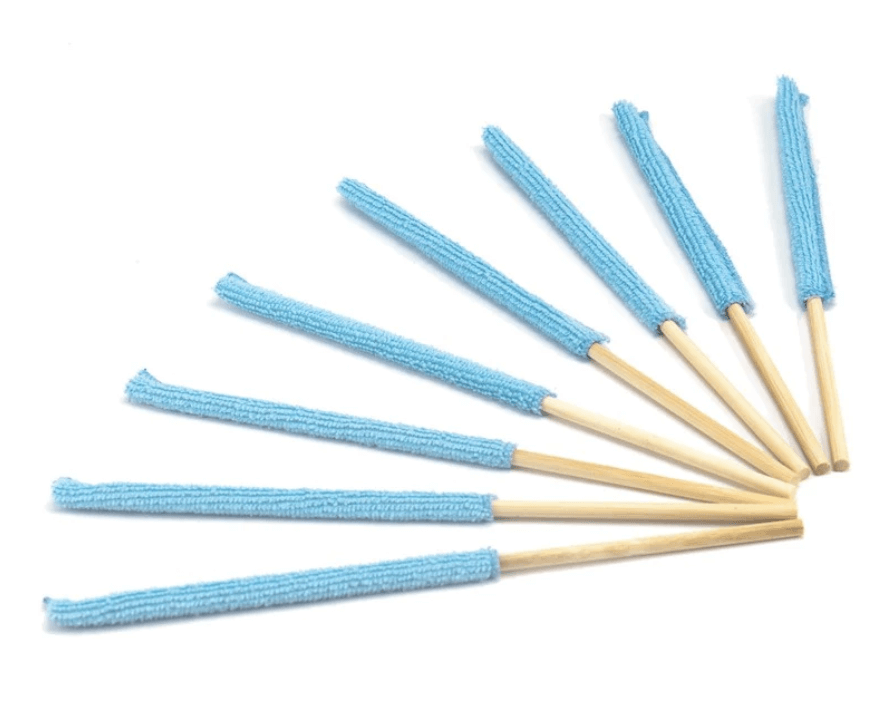 You already know it's a must to clean your toys after every use. But, you should also dry them properly to prevent mold buildup. For sex toys like tenga eggs, it's not really a problem since the toy doesn't have small openings. But, it's not the case for onaholes and fleshlights.
It can be challenging to reach those tight spaces. With these microfiber drying sticks, you won't have that problem. After rinsing your toys, carefully insert the stick until it reaches the end of the toy. Squeeze the toy to make sure you've covered every crevice.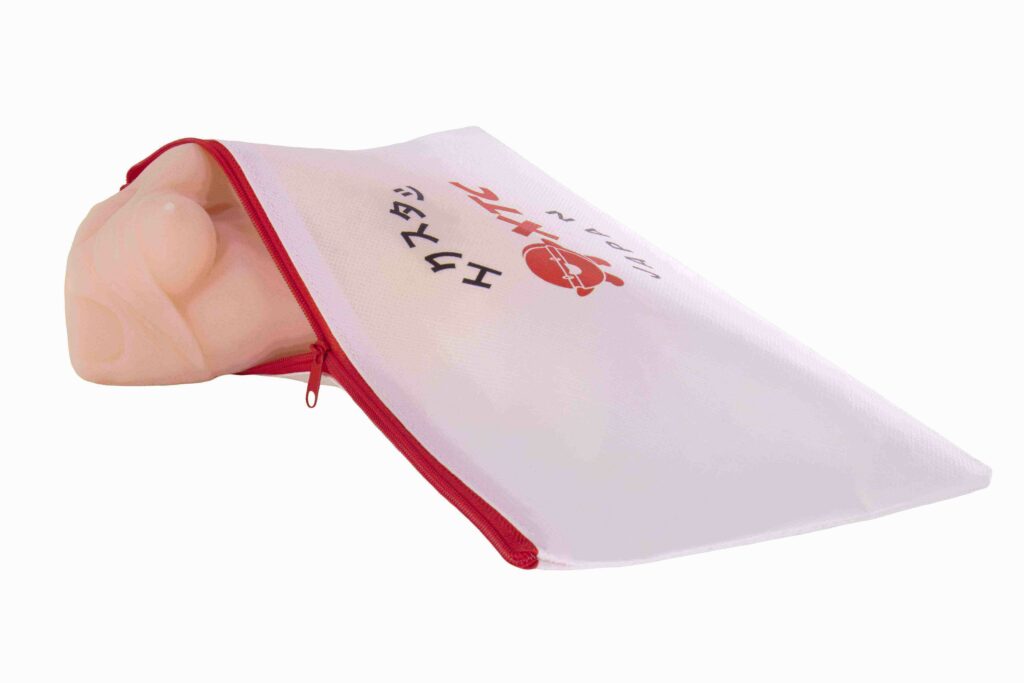 Traveling anytime soon? This toy sack might be just what you need. At first glance, this bag might seem unassuming, but it's actually what makes it great for storing smaller sex toys like onaholes or strokers. This way, you can bring your sex toys discreetly.
Unlike most zipper bags, this one has a special coating that'll prevent spots and smudges on your toys. It's also handy for preventing the accumulation of dust, dirt, and even pet hair on your sex toys.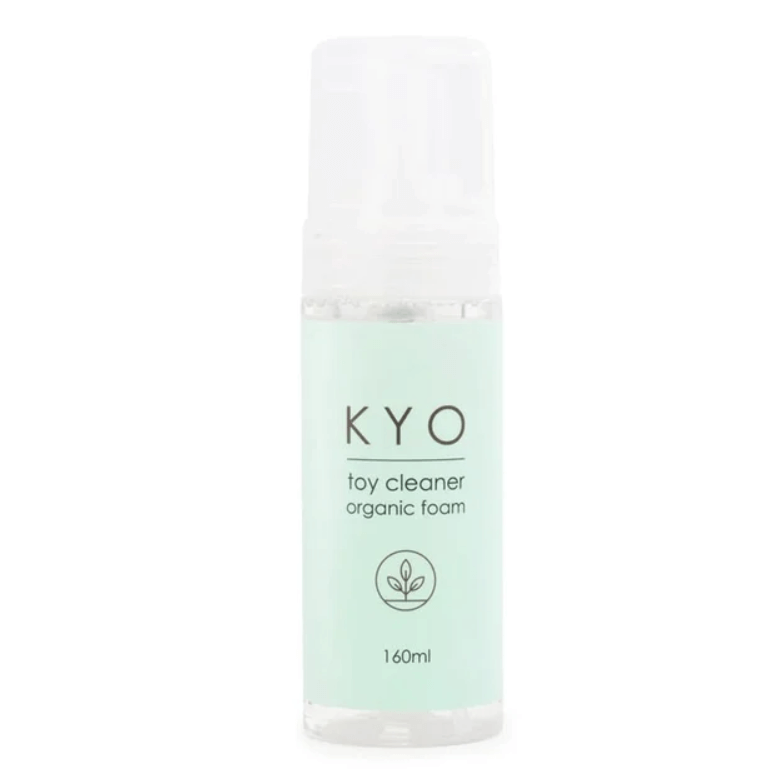 If you're worried about which soap to use for your sex toys, then try this toy cleaner from KYO. This does all the hard work for you as the soap contains tiny bubbles that trap dirt, which can easily get in your fleshlight or stroker's nooks and crannies.
Now you don't have to worry about scrubbing your toys and potentially causing damage to them. Just squeeze a bit of soap inside the toy, rub the surface, and rinse! When you're done, you can use the microfiber stick to ensure there is no water left behind.
The Bottom Line
Remember, proper sex toy storage not only keeps your toys organized and protected but also helps maintain their quality and longevity. Don't let improper storage ruin your pleasure.
Take care of your sex toys by properly cleaning and storing them and you can prolong the lifespan of your toys and keep them organized and discreet. Choose the perfect storage box and sex toy storage essentials for your collection and enjoy your toys to the fullest!