Table of Contents
Masturbation using fake pussy toys is healthy and normal because it lets you explore your sexuality without the risk of sexually-transmitted diseases. Most of these toys have a design that is so realistic that you probably could not tell the difference between a real pussy and a fake one. If you have not yet experienced being inside one, these toys could also help you get a glimpse of what it is like! 
Using these toys removes the hassle of going into the dating scene and finding a sexual partner. We all know how hard that can be, mostly due to society's unrealistic standards of dating and sexual relationships. But do not worry because these fake pussy toys will give you the sexual satisfaction you need.
What to look for in a fake pussy
Not all toys are the same, and some might stand out from the rest, so you should buy one that is worth your money. But with thousands of available toys to choose from, it could be a cumbersome task to go through each of them. That is why these are the three things you could check that could help you decide if a certain fake pussy toy is worth buying.
Texture and tightness
You should find a toy that fits your wall tightness and skin texture preference. These elements might be easy to disregard, but they all improve your sexual stimulation. For example, some people like to stroke their shafts against a thick wall. But for some, this might be too much and feel suffocating. Others want to rub their manhood on the outer layer of the toy and feel the soft skin before stroking inside.
Whatever your preferences are, remember to consider them when choosing a toy, regardless of the price. But this might be hard for you because you cannot try out the toy before you buy it, especially if you are buying it online. That is why you should check the reviews of previous customers or get accurate measurements of the toy.
Layers of the fake pussy internal structure
Have you ever been tired of feeling your hand stroke your shaft for many nights? If you want to avoid that feeling again, you need to check the internal structure of your toy and how it looks inside. For starters, you should opt for a toy with multiple layers of massage beads, ridges, or tunnels, instead of a tunnel with a uniform texture throughout.
Having a multi-layer fake pussy toy allows you to experience varying levels of sexual stimulation. The layers do not have to be tighter as you go deep. Some toys have tighter layers near the entrance and widen out as you thrust further.
Aesthetic elements
You should also find a toy with something that turns you on, whether they are puffy labia or pink-colored camel toes. By doing so, you are increasing your sexual stimulation and adding a connection between you and your fake pussy. With the availability of toys with innovative and unique designs, you could be as picky as you want.
Toys with customized aesthetic elements such as the skin color, size, firmness of the pussy lips, or even the hole's appearance, are widely available, and you can conveniently order them online. So if you want a clear and transparent pussy toy to see your shaft while stroking inside, you could find dozens of toys like that.
Check out these best fake pussy toys!
These toys will give you sexual stimulation that masturbating with your hand could not give! Thanks to their unique designs, you will not regret every dollar you spend on these:
1. Violated Busty Young Wife Kana
Have you wondered what it feels like inside the pussy of a pornstar? Well, NPG created a realistic toy so you can feel like you are thrusting your shaft inside Kana, a famous Japanese Adult Video star. Violated Busty Young Wife Kana has amazing aesthetic details and offers a ton of sexual stimulation inside for you.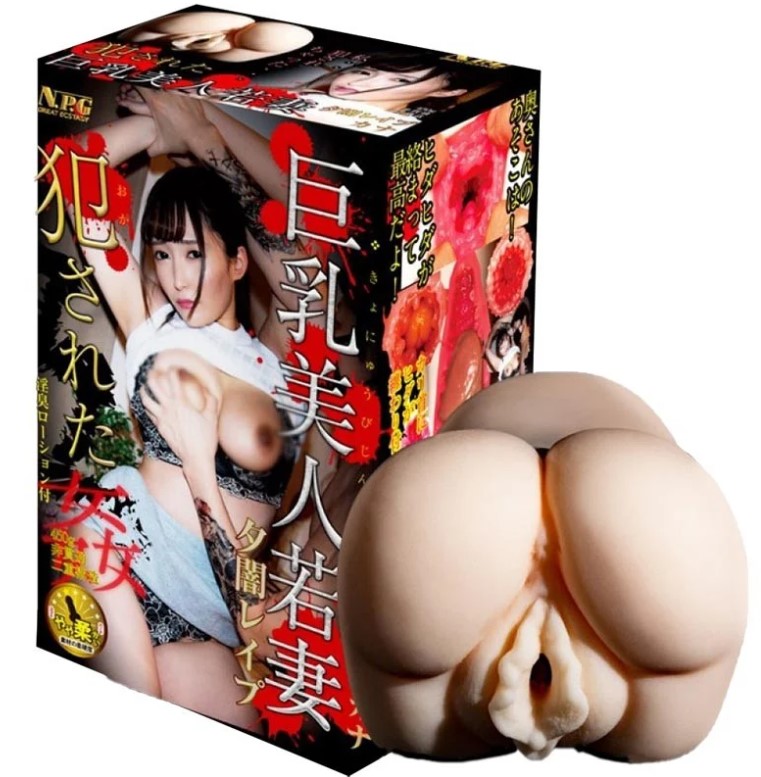 On the packaging, you could see images of Kana posing as a wife with a top showing her busty breasts and a blue skirt that lets you see her thick thighs. These images give you the concept of a young wife desperate for sexual attention, especially for your manhood. That is why as you unveil the toy, you will see a lifelike design of the pussy with lips spread apart, a clitoris on top, and plump mini-ass cheeks ready to sandwich your shaft.
NPG designed fake pussy toy to have two layers, an outer layer that features pale, soft skin compatible with many lubricants. Its skin is elastic, and you can easily stretch it with your manhood without tearing it. Inside Kana, you would feel a tight wall pushing against your shaft as you stroke it. Simply put a few drops of lubricant, and you will blow your load in minutes.
2. Japanese Real Hole Indecent Rara Anzai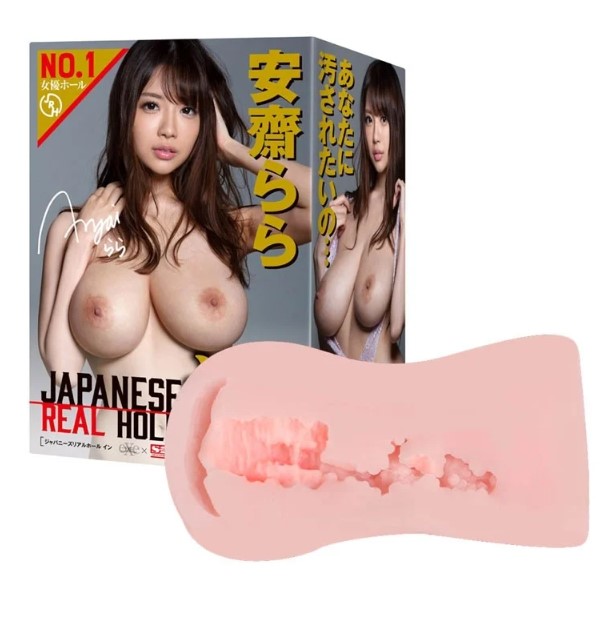 Rara Anzai is a famous pornstar known for having an all-natural pair of breasts, a thick ass, and a smile to die for, and many men fantasize about stroking inside her. If you are unfamiliar with her work, you should quickly watch a video to see how freaky she is around guys, and she is always ready for more action. EXE created a pussy toy based on her, so you could show her what you got and pound her in whichever you like.
This Japanese Real Hole Indecent Rara Anzai has thick walls so that you would not feel your hands touching your shaft while stroking inside, and it houses an 11-centimeter tunnel that will give you a snug fit. The toy's opening is pliable and elastic, which would stretch and adapt to your size. Once you are stroking inside, you will feel the ridges and textures closing in on you.
3. Virgin Matchless Kurogane Clear
Did you jerk off while watching your favorite hentai animators and wonder, it must feel amazingly good inside their wet pussies? Now, you could answer your question with the Virgin Matchless Kurogane Clear. This fake pussy toy features a sword maiden ready to take you through 7 gates of pleasure with her pussy.
This toy features a clear and transparent exterior, while its tunnel is colored bright red so you can see your shaft while you are stroking inside. Once you enter and push deep through the tunnel, you will feel 7 tight rings wrapping slowly on your shaft with each stroke. They suck your manhood inside, creating a vacuum sensation as you go backward.
You could use this toy with one hand without straining your wrists, thanks to its weight of 343 grams. Also, you could easily bring it along with your luggage if you go on a vacation. If you want to increase the intensity of your strokes, you could use both hands and go crazy inside until you ejaculate.
4. Puni Virgin 600 Onahole
Are you ready to let the onii-chan inside of you explode? Try the Puni Virgin 600 Onahole, designed after an innocent-looking anime girl with a freakish pussy ready to please you. This 10cm long tunnel will leave your shaft hanging dry once you are done using it.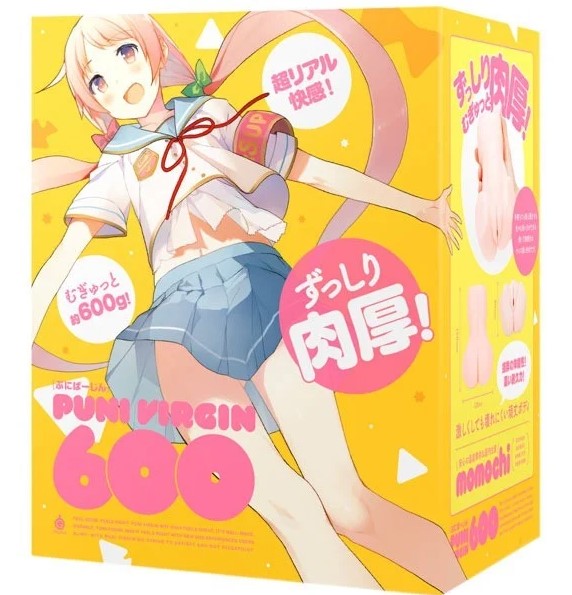 Inside the fake pussy toy, you would immediately feel rows of nubs on the upper and lower portion of the toy enveloping your shaft as you thrust inside. Once you reach the middle, a tight ridge is ready to stimulate you further. If you thrust deep enough, you could feel a thick rear wall that could handle your intense thrusts.
Thanks to its dimensions and a closed-off backside, you could create a vacuum while your shaft is inside. Simply push out the air before you enter, or you could squeeze with every stroke you make. The air created as you squeeze inside and the massage nubs on the toy's walls will give you immense sexual pleasure.
5. Meiki no Shoumei: Maria Ozawa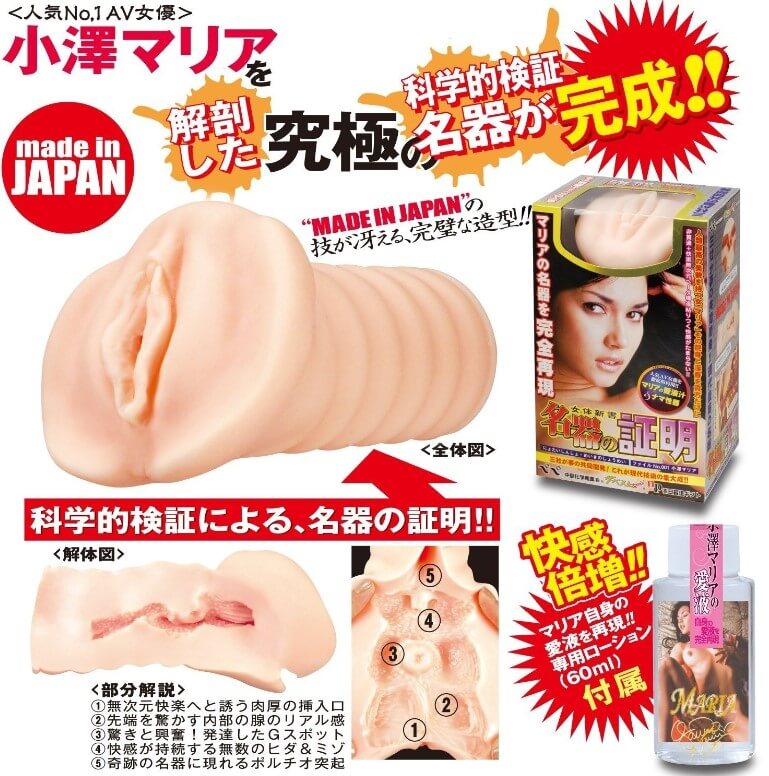 Almost everyone knows Maria Ozawa, a Japanese pornstar with a Canadian bloodline. She has been a fan favorite for many years thanks to her unique looks and superb performance. Now you could experience what it's like inside, thanks to a toy modeled after her.
The Meiki no Shoumei: Maria Ozawa now features version molded after the legend's actual pussy. Unlike other fake toys based on famous pornstars, where they only scan the outer layer of the vagina, this toy is different. Maria Ozawa teamed up with the manufacturers to have her vagina scanned from the outside and probed on the inside so they could recreate a toy out of it.
Now you could experience her fake pussy toy in a 17cm long toy weighing 550 grams. Additionally, contrary to the stereotype that most pornstar pussies are already loose, this one has a tight tunnel. As a bonus, the manufacturers added ribs to the internal structure for more stimulation.
Stop masturbating with your hand; use best fake pussy toy now!
With these best fake pussy toys, you will never need to use your hand again if you want to masturbate. Although there are still many differences between a toy and a human pussy, such as natural lubrication, and warm skin, these toys could still do the job.